WEB-LAYOUT
CSS Design Grid Layout Generators :: Webmaster Tools & Resources :: Webmaster Tools & Resources for Website Design. 15 Top Premium Template Websites For Web Designers. Everyone agrees that free stuff is great.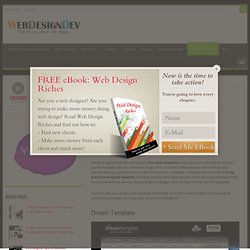 Free web templates are good, such as WordPress Themes, Joomla Templates etc, but sometimes its good to cross over to the premium side of things and discover what you get if you invest a bit of money into a template. Compiled here are a list of 15 top premium template websites. On these premium template websites, there are many templates listed covering WordPress, Joomla, Drupal, Magento, Blogger, Flash and pure HTML and CSS templates. On most sites you can buy each template individually, but if your a keen designer you can buy an unlimited subscription to some sites. Its worth checking out! CSS Layouts: 40+ Tutorials, Tips, Demos and Best Practices. Jul 28 2008 The main idea behind CSS-based layouts is offering more flexibility and enhancing the visual experience of visitors.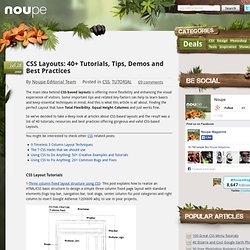 Some important tips and related key-factors can help to learn basics and keep essential techniques in mind. And this is what this article is all about.
TOOLTIPS
15 Indispensable Virtues of Website Design for Serious Graphic Designers | Pixelactic. NAVIGATION. Subtle Patterns | Free textures for your next web project. 50 Truly Eye-Catching And Detailed Web Layout Tutorials. Icon Search Engine. A flexible width, component based CSS layout system.
---