Graphic_Beta
Amsterdam NOW | A Handpicked Selection of Amsterdam Finest. Free Website Builder - Moonfruit - Total website design control. How Mobile Will Evolve In 2012. Copenhagen Design Week. MuseoTorino. La visita al Museo parte dall'esplorazione della mappa della città presente: cliccando in corrispondenza dei punti contrassegnati si trovano informazioni e approfondimenti su luoghi, eventi, soggetti e temi legati alla città.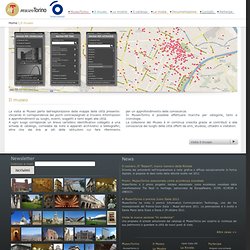 A ogni luogo corrisponde un breve cartellino identificativo collegato a una scheda di catalogo, corredata da note e apparati archivistici e bibliografici, oltre che dai link ai siti delle istituzioni cui fare riferimento per un approfondimento delle conoscenze. In MuseoTorino è possibile effettuare ricerche per categorie, temi e cronologie. La collezione del Museo è in continua crescita grazie ai contributi e alla conoscenza dei luoghi della città offerti da enti, studiosi, cittadini e visitatori.
Museo Torino - un esempio reale d'uso di NOSQL-GraphDB, Linked Data... Welcome to Dutch Design, Fashion and Architecture > DutchDFA.
---