CCK11: Week 2: Readings
You are not logged in. [] [] This short clip gets to the heart of some of the things I talk about here. George Lakoff describes frames, which are composed of elements (eg., doctors, scalpels, operating rooms, etc) and scenarios (the doctor uses the scalpel in the operating room). Frames are physically realized in the neural circuitry of the brain.
Idea Framing, Metaphors, and Your Brain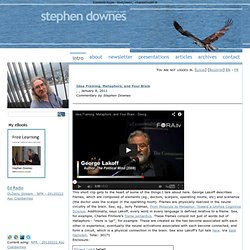 networks4newbies
You are not logged in. [] [] [ All Presentations ] Learning Networks: Theory and Practice March 8, 2005 Lecture presentation delivered to International Conference on Methods and Technologies for Learning, Palermo, Italy.
Learning Networks: Theory and Practice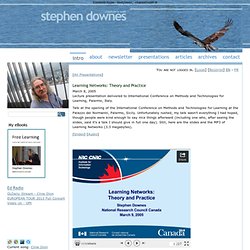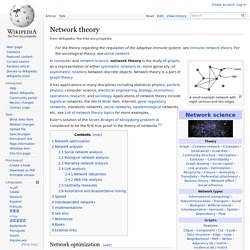 Network theory is an area of computer science and network science and part of graph theory . It has application in many disciplines including statistical physics, particle physics , computer science, biology , economics , operations research , and sociology . Network theory concerns itself with the study of graphs as a representation of either symmetric relations or, more generally, of asymmetric relations between discrete objects.
Social network analysis [SNA] is the mapping and measuring of relationships and flows between people, groups, organizations, computers, URLs, and other connected information/knowledge entities. The nodes in the network are the people and groups while the links show relationships or flows between the nodes. SNA provides both a visual and a mathematical analysis of human relationships. Management consultants use this methodology with their business clients and call it Organizational Network Analysis [ONA]. To understand networks and their participants, we evaluate the location of actors in the network . Measuring the network location is finding the centrality of a node.