CCK11: Week 2: Readings
Idea Framing, Metaphors, and Your Brain. Networks4newbies. NetLab is an interdisciplinary scholarly network studying the intersection of social networks, communication networks, and computer networks.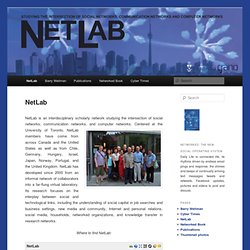 Centered at the University of Toronto, NetLab members have come from across Canada and the United States as well as from Chile, Germany, Hungary, Israel, Japan, Norway, Portugal, and the United Kingdom. NetLab has developed since 2000 from an informal network of collaborators into a far-flung virtual laboratory. Learning Networks: Theory and Practice. [All Presentations] Learning Networks: Theory and Practice March 8, 2005 Lecture presentation delivered to International Conference on Methods and Technologies for Learning, Palermo, Italy.
Talk at the opening of the International Conference on Methods and Technologies for Learning at the Palazzo dei Normanni, Palermo, Sicily. Network theory. Network optimization[edit] Network analysis[edit] Social network analysis[edit]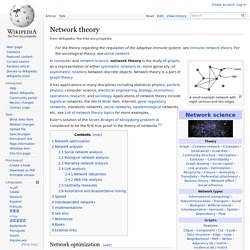 Social Network Analysis. Social network analysis [SNA] is the mapping and measuring of relationships and flows between people, groups, organizations, computers, URLs, and other connected information/knowledge entities.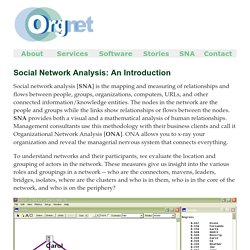 The nodes in the network are the people and groups while the links show relationships or flows between the nodes. SNA provides both a visual and a mathematical analysis of human relationships. Management consultants use this methodology with their business clients and call it Organizational Network Analysis [ONA]. To understand networks and their participants, we evaluate the location of actors in the network. Measuring the network location is finding the centrality of a node.
---