Things I want to buy
Get flash to fully experience Pearltrees
1246 rue Sainte-Catherine O. Montréal H3G 1P1 (514) 874-0063 HEURES D'OUVERTURE: 10h00 - 21h00 Lundi au vendredi 10h00 - 19h00 Samedi 11h00 - 18h00 Dimanche 509 rue Saint-Joseph E. Québec G1K 3B7 (418) 529-2647
Details: Is anyone able to answer any of the following questions about the Jonathan Adler elephant mug? (1) Mug dimensions--e.g. height, total width including handle, & diameter of the container. (2) Fluid capacity in mL or oz. (3) Weight of mug or heaviness when full of liquid (in terms of ergonomic comfort & construction). (4) Ergonomic balance and comfort of mug handle (i.e. awkward feel vs. ergonomic design).
1246 rue Sainte-Catherine O. Montréal H3G 1P1 (514) 874-0063 HEURES D'OUVERTURE: 10h00 - 21h00 Lundi au vendredi 10h00 - 19h00 Samedi 11h00 - 18h00 Dimanche 509 rue Saint-Joseph E. Québec G1K 3B7 (418) 529-2647 HEURES D'OUVERTURE: 10h00 - 21h00 Lundi au vendredi 10h00 - 20h00 Samedi 11h00 - 19h00 Dimanche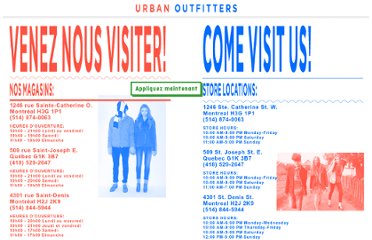 Herb-anite Just add dirt! Cultivate your green thumb with this kit that has all the seeds and instructions you need to grow fresh and tasty herbs in a sunny window year-round.
The Purrfect Puzzle Celebrate the puzzling behavior of those of the feline persuasion with this beautiful (and slightly tricky) 3D puzzle box handmade by HSSS artisans in India. This sleeping kitty hides two compartments that are revealed when you remove the two keys and two lids. Handmade of sustainable sheesham wood, native to the Indian subcontinent, bought under supervision and quota from the government of India (which sells the wood of dead trees). Each is one-of-a-kind and will vary.
It's Easy Breathing Green Let's clear the air. We understand that you don't like odors in your house, who does?