Stuffing
Thanksgiving Casserole
Vegetarian Stuffing
Hearty Stuffing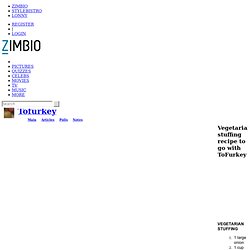 Vegetarian stuffing recipe to go with ToFurkey - Tofurkey
1 large onion 1 cup celery and tops (if desired), chopped 4 cups dried bread, stale bread crumbs, fresh bread, or corn bread 1 cup vegetable broth 1/2 teaspoon of each: dried sage, thyme and savory, with a pinch of rosemary Salt and pepper to taste Chinese sesame oil for the pan Fry onion and celery in oil until translucent but still crunchy. Remove from heat and add bread crumbs.
Pumpkin prep: Cut off and reserve a lid, as you would preparatory to carving a jack-o'-lantern. Scoop out all of the seeds and fibers.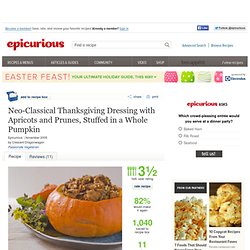 Neo-Classical Thanksgiving Dressing with Apricots and Prunes, Stuffed in a Whole Pumpkin Recipe at Epicurious
Vegetarian Stuffing Recipe
Parsley, Sage, Rosemary and Thyme Stuffing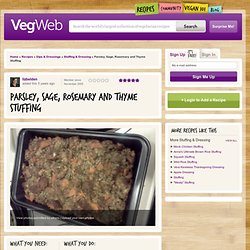 1.
Thanksgiving Dressing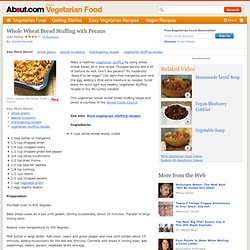 Vegetarian Stuffing with Whole Wheat Bread and Pecans - Whole Wheat Bread Stuffing - Vegetarian Stuffing Recipe
Ingredients: 4 cups whole wheat bread, cubed2 tbsp butter or margarine1/2 cup chopped onion3/4 cup chopped celery1/2 cup chopped green bell pepper3/4 cup sliced mushrooms1/2 tsp dried thyme1/2 tsp Spanish paprika1/8 tsp nutmeg1/2 cup raisins1/2 cup chopped pecans1 cup vegetable broth1 egg, slightly beaten Preparation:
Vegetarian Turkey Stuffing Recipe