Smoothies
My Top Secret Diet Weapon. Continuing the theme of my post-vacation shape up, I went home and drank my veggies for lunch in the form of a… Green Monster Spinach Smoothies are one of my top secret diet weapons, because although they're packed with baby spinach, which make my skin, hair, nails, and overall self feel totally great, they do not taste healthy at all.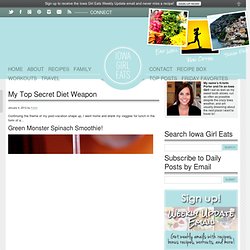 I repeat, they do not taste healthy at all. Spinach is fat free, cholesterol free, low in calories, and very low in sodiumSpinach is an excellent source of vitamin A, C, K, iron, fiber, folate, and luteinLeutin is an antioxidant that promotes good eye health, and may help prevent cancer of the liver, ovaries, colon and prostate, and even dementia.Dole lab tests found spinach juice has twice the chlorophyl, eight times the calcium, six times the magnesium, 10 times the potassium, 15 times the vitamin C and 43 times the vitamin A of wheatgrass juice!
Are you convinced yet? Groovie Smoothie Recipe.
---