Recipes
Sites. 17 Ways to Use Kale (Slideshow) Kale is the best of everything — super cheap, super tasty, super versatile and super healthy.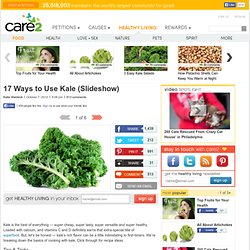 Loaded with calcium, and vitamins C and D definitely earns that extra-special title of superfood. But, let's be honest — kale's rich flavor can be a little intimidating to first-timers. Vegan. Breakfast. Drank. Sandwiches.
"Regular" Drinks. Soup and Stew. Breads. Side Dishes. Main Dishes. Wonton Wrappers. Desserts. Condiments.
---