Pretzels
Homemade Soft Pretzels. If you decide to make these AH-mazing homemade soft pretzels, make sure someone else is home to help you eat them.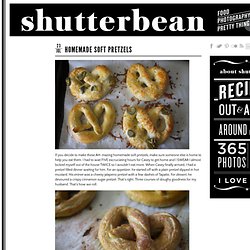 I had to wait FIVE excruciating hours for Casey to get home and I SWEAR I almost locked myself out of the house TWICE so I wouldn't eat more. When Casey finally arrived, I had a pretzel filled dinner waiting for him. For an appetizer, he started off with a plain pretzel dipped in hot mustard. His entree was a cheesy jalapeno pretzel with a few dashes of Tapatio. For dessert, he devoured a crispy cinnamon sugar pretzel. Hot Buttered Pretzels. PRETZEL BITES – Parmesan or Cinnamon and Sugar with glaze. Do you need a perfect snack for the big game?
These Pretzel bites will hit the spot for sure. You can make a combination of Parmesan bites with a Cheese dip or Cinnamon and Sugar bites with a Vanilla glaze for dipping. I've finally used up my supply of Rhodes Roll dough . . . until I buy more. It's quite nice to have on hand when you need it. Soft Pretzel Bites.
---