Pasta
Baked Ziti recipe
I'm having a hard time with the weather. It has been super nice here in LA. This means, t shirts, dresses, and shorts.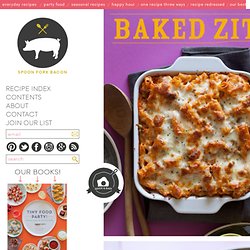 Spinach and Artichoke Baked Pasta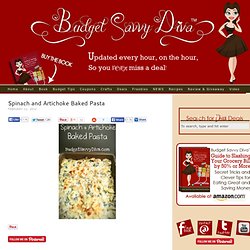 If you like this recipe then PIN IT on Pinterest Everyday at 1 pm PST/ 4 pm EST Budget Savvy Diva posts a NEW RECIPE Make sure to follow Budget Savvy Diva on Facebook Find Copy Cat Recipes HERE Find more Recipes HERE This dish is perfect for families.
Recipe for Homemade Pasta at Life
Valentine's day is less than a week away and if you are stuck on something to do with your sweetie, I've got an idea. Get in the kitchen together and make an authentic Italian dinner. And you can't get more authentic then fresh homemade pasta.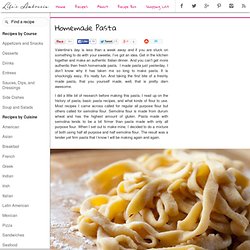 Tortellini Alfredo with Roasted Peppers
Zucchini Spaghetti with Creamy Lemon-Chive Dressing
A couple weeks ago, I had a fantastic warm asparagus salad at a nearby restaurant, one I immediately swore I'd make at home. It had segments of white and green asparagus tossed with goat cheese and a tarragon and lemony mint vinaigrette and it was piled on a bed of red endive, my favorite. It was stunning. It was delicious. Alas, this is not it. What a tease I am, right?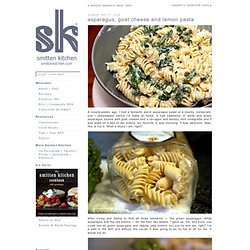 asparagus, goat cheese and lemon pasta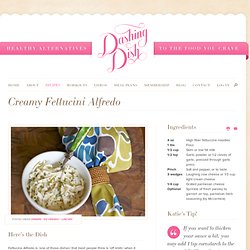 Creamy Fettucini Alfredo
Fettucine Alfredo is 'one of those dishes' that most people think is 'off limits' when it comes to eating healthy. However, through experimenting with different ingredients, I have found that even the most heavy dishes can be lightened up, without loosing their 'traditional' taste! The star of this dish is the Laughing Cow Cheese, which packs a powerful cheesy punch, for only 30 calories a wedge! Traditional Alfredo recipes generally call for heavy cream, butter, cheese, and white pasta noodles, which is why many alfredo recipes can come out to around 1,000 calories a plate! The substitutions in this recipe allow for the sauce to remain rich, cheesy, and creamy, without all of the fat and calories. Also, there are many wonderful whole grain pastas that taste wonderful, and have the added bonus of having fiber and protein to keep you satisfied!
Creamy Garlic Pasta
Spinach and Cheese Stuffed Shells
Pasta and cheese....what's not to love?? I've had several recipes for stuffed shells marked to try for a while now and finally decided I wanted to make them this weekend. When I set out to do so, however, I determined I didn't have all of the ingredients to make any of the recipes so I wound up piecing together a recipe that was based on a few that I had bookmarked.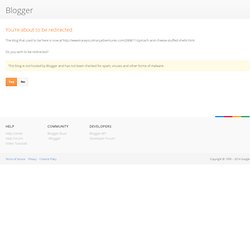 Tortelonni with Pink Sauce and Fresh Mozzarella Hearts
Wonderful Vegetarian Sweet Potato and Red Pepper Pasta
Greek Pasta with Tomatoes and White Beans Recipe
Greek Fettuccine Recipe
Recipe for Cheese Tortellini with Pesto and Sun Dried Tomatoes at Life
Recipe for Creamy Herb Fettuccine at Life
Recipe for Fettuccine Alfredo at Life
Linguine with Two-Cheese Sauce
I have a magazine problem. There, I said it.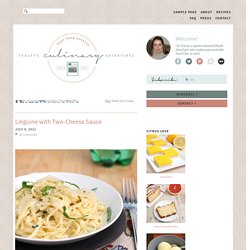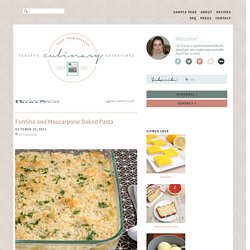 Fontina and Mascarpone Baked Pasta
If you've been reading my blog for a while, you may recall that in addition to working on this blog, I'm also an attorney.