Pasta
Lasagna. Baked Ziti recipe. I'm having a hard time with the weather.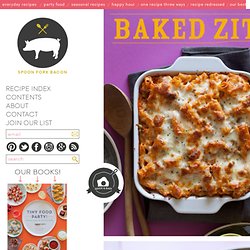 It has been super nice here in LA. This means, t shirts, dresses, and shorts. Spinach and Artichoke Baked Pasta. If you like this recipe then PIN IT on Pinterest Everyday at 1 pm PST/ 4 pm EST Budget Savvy Diva posts a NEW RECIPE Make sure to follow Budget Savvy Diva on Facebook Find Copy Cat Recipes HERE Find more Recipes HERE This dish is perfect for families.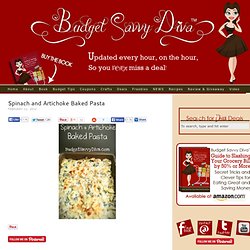 Recipe for Homemade Pasta at Life. Valentine's day is less than a week away and if you are stuck on something to do with your sweetie, I've got an idea.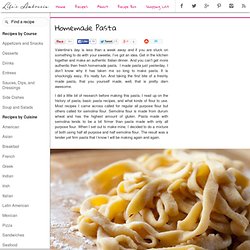 Get in the kitchen together and make an authentic Italian dinner. And you can't get more authentic then fresh homemade pasta. Tortellini Alfredo with Roasted Peppers. Creamy Tortellini Soup: A Pasta Dinner from Your Slow Cooker Toss your favorite Italian ingredients in a slow cooker and forget it.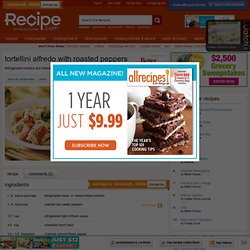 The secret to this make-ahead dinner is the just-right combo of fresh and prepped ingredients. Get the details! Bhg.com Italian Sausage Soup with Tortellini. Zucchini Spaghetti with Creamy Lemon-Chive Dressing. Asparagus, goat cheese and lemon pasta. A couple weeks ago, I had a fantastic warm asparagus salad at a nearby restaurant, one I immediately swore I'd make at home.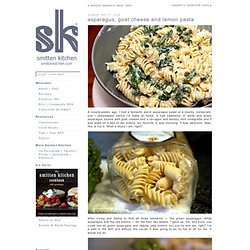 It had segments of white and green asparagus tossed with goat cheese and a tarragon and lemony mint vinaigrette and it was piled on a bed of red endive, my favorite. It was stunning. It was delicious. Alas, this is not it. What a tease I am, right? Creamy Fettucini Alfredo. Fettucine Alfredo is 'one of those dishes' that most people think is 'off limits' when it comes to eating healthy.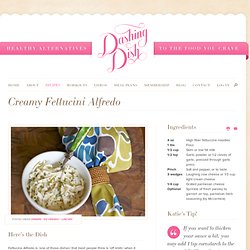 However, through experimenting with different ingredients, I have found that even the most heavy dishes can be lightened up, without loosing their 'traditional' taste! The star of this dish is the Laughing Cow Cheese, which packs a powerful cheesy punch, for only 30 calories a wedge! Traditional Alfredo recipes generally call for heavy cream, butter, cheese, and white pasta noodles, which is why many alfredo recipes can come out to around 1,000 calories a plate! The substitutions in this recipe allow for the sauce to remain rich, cheesy, and creamy, without all of the fat and calories. Also, there are many wonderful whole grain pastas that taste wonderful, and have the added bonus of having fiber and protein to keep you satisfied!
Creamy Garlic Pasta. Spinach and Cheese Stuffed Shells. Tortelonni with Pink Sauce and Fresh Mozzarella Hearts. By Laurie David, Environmentalist and Author, The Family Dinner Here's a festive, love-inspired pasta dish that's a perfect family meal for Valentine's day or any day.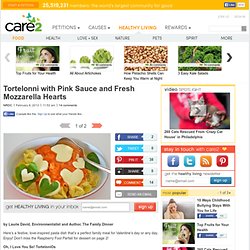 Enjoy! Don't miss the Raspberry Fool Parfait for dessert on page 2! Oh, I Love You So! Wonderful Vegetarian Sweet Potato and Red Pepper Pasta. Sweet potatoes and pasta may seem counter-intuitive, but here's a recipe that uses sweet potatoes and red bell peppers in a bright "power vegetable" pasta dish that's loaded with fresh herbs and very delicious.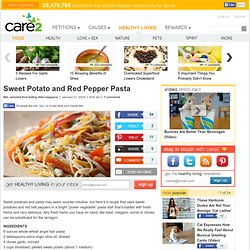 Any fresh herbs you have on hand, like basil, oregano, sorrel or chives, can be substituted for the tarragon. INGREDIENTS 8 ounces whole-wheat angel hair pasta 2 tablespoons extra-virgin olive oil, divided 4 cloves garlic, minced 3 cups shredded, peeled sweet potato (about 1 medium) 1 large red bell pepper, thinly sliced 1 cup diced plum tomatoes 1/2 cup water 2 tablespoons chopped fresh parsley 1 tablespoon chopped fresh tarragon 1 tablespoon white-wine vinegar or lemon juice 3/4 teaspoon salt 1/2 cup crumbled goat cheese 1. Bring a large pot of water to a boil.
Cook pasta until just tender, 4 to 5 minutes or according to package directions. Greek Pasta with Tomatoes and White Beans Recipe. Greek Fettuccine Recipe. Recipe for Cheese Tortellini with Pesto and Sun Dried Tomatoes at Life. Last Thursday I got up bright and early knowing that I had a busy day ahead of me.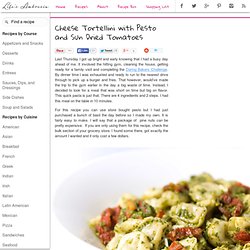 It involved the hitting gym, cleaning the house, getting ready for a family visit and completing the Daring Bakers Challenge. By dinner time I was exhausted and ready to run to the nearest drive through to pick up a burger and fries. That however, would've made the trip to the gym earlier in the day a big waste of time. Instead, I decided to look for a meal that was short on time but big on flavor. This quick pasta is just that. Recipe for Creamy Herb Fettuccine at Life. I am not going to be shy about it, this pasta is certainly a splurge.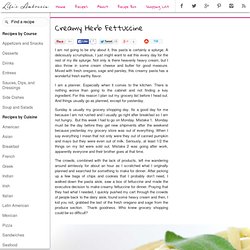 A deliciously scrumptious, I just might want to eat this every day for the rest of my life splurge. Not only is there heavenly heavy cream, but I also throw in some cream cheese and butter for good measure. Mixed with fresh oregano, sage and parsley, this creamy pasta has a wonderful fresh earthy flavor. Recipe for Fettuccine Alfredo at Life. Linguine with Two-Cheese Sauce. Fontina and Mascarpone Baked Pasta. Creamy Basil Pesto.
---