Nails
So this might not exactly be basic to some of you, but it was one of my very first 'edgy' manis I did, lol. I never used to wear dark colors. I actually think this mani is what helped me fall in love with the matte polishes. Now, I know this is posted in my 'Playing Catch Up' post, back when I started this blog, but I decided to re-do it.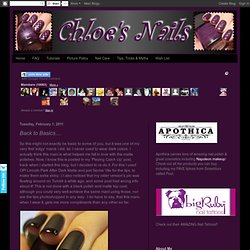 Back to Basics....
www.thelooksforless.com/wp-content/uploads/2011/08/chinaGlazeStreetChicCrackedConcreteWestsideWarriorTrendsetterFall2011.jpg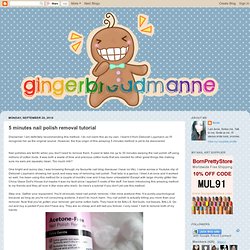 Disclaimer: I am definitely recommending this method. I do not claim this as my own. I learnt it from Deborah Lippmann so I'll recognise her as the original source. However, the true origin of this amazing 5 minutes method is yet to be discovered.
Nails to Paint / Copy That, Copy Cat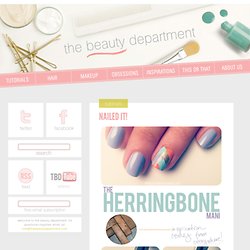 NAILED IT!
photos/post/design: Kristin Ess (wood floor insert photo from remodelista.com) You gotta love those magical moments when you're just minding your own bizz and inspiration jumps out and smacks you right between the eyes. Not long ago I was looking through floor patterns for a home project. My favorite pattern in the world is called the "herringbone pattern". While I'm speaking to this flooring guy, all I could think about is making this pattern into a manicure.
5 Big Nail Trends Happening Right Now: Which Would You Wear? : Girls in the Beauty Department: Beauty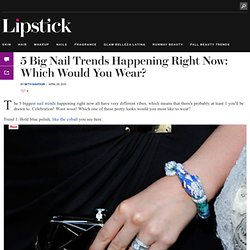 Thursday, 4/26/2012 at 8:53AM by Beth Shapouri Email meBeauty and lifestyle writer, '80s pop culture enthusiast and self-proclaimed best person alive. The 5 biggest nail trends happening right now all have very different vibes, which means that there's probably at least 1 you'll be drawn to. Celebration! Woot woot!
All Things Cosmetology / spot on
TBDnewmoons.jpg (512×1068)
These are all my own opinions, and experiences. Feel free to ignore or disagree with any or all :) Can't get your polish lid off?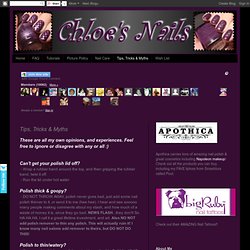 Tips, Tricks & Myths
‪Flaming Nails Tutorial‬‏
Converse Shoes Nail Tutorial
‪Tropical Pink Nail Tutorial‬‏
‪Touch the Rainbow - Marble technique nail tutorial‬‏
‪pink french & flowers...różowy french & kwiatki‬‏
‪Tip: Easier To Do Nail Art Designs - [ORIGINAL]‬‏
‪PINK BLACK & WHITE NAIL ART DESIGN TUTORIAL‬‏
‪Rainforest inspired nails‬‏
‪~* Twisted Dotted Purple Nails *~‬‏
‪Easy Cherry Blossom Nail Art for Short Nails‬‏
‪Nail Tutorial - "Green With Envy "‬‏
‪Nail art design tutorial: purple and lines with glitter‬‏
Abstract French Nails
# Acrylic Nails Silver Design #
☆PURPLE ROCK★STAR NAILS ☆