Mashed Potatoes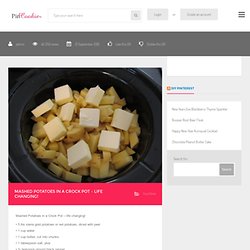 Mashed Potatoes in a Crock Pot – life changing!
Mashed Potatoes in a Crock Pot – life changing! • 5 lbs sierra gold potatoes or red potatoes, diced with peel • 1 cup water • 1 cup butter, cut into chunks • 1 tablespoon salt, plus • ¾ teaspoon ground black pepper • 1 1/3 cups milk, warmed 1. Place the potatoes, water, and butter into a slow cooker. 2. Season with salt and pepper. 3. Cover, and cook on High for 4 hours. 4.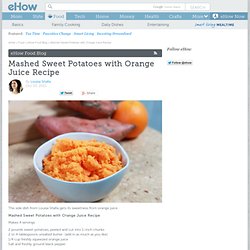 Mashed Sweet Potatoes with Orange Juice Recipe | eHow's Food Blog: Table Talk
This side dish from Louisa Shafia gets its sweetness from orange juice.
Recipe for Cheesy Baked Mashed Potatoes at Life
I'd like to offer you some facts. Fact 1: Mashed potatoes are glorious wonderful things. Fact 2: Bacon, green onions, sharp cheddar cheese, creamy havarti cheese and gruyere cheese are also wonderful.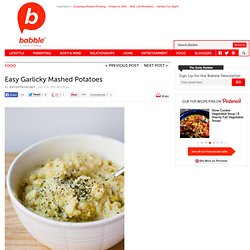 Easy Garlicky Mashed Potatoes
Easy Potatoes – mashed
Mashed Potatoes And Gravy Recipe - Vegan Christmas Recipes On Video
This mashed potatoes and gravy recipe is part of my upcoming vegan Christmas recipes series.