Cupcakes
Chocolate Peanut Butter Fudge Cake - Jess Cake: 1 box Chocolate Fudge cake mix (or any chocolate cake mix) 1 (3 oz.) box instant chocolate pudding... 2 C. sour cream 5 eggs 1 C. melted butter 1 tsp. vanilla extract 1 C. chocolate chips (I recommend ghirardelli) In a large bowl, beat first 6 ingredients until well blended.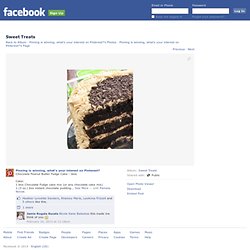 Timeline Photos
Twinkie Cupcakes - Jess Ingredients : 1 box yellow cake mix, plus ingredients on back of box... 1 small box sugar free/fat free instant French vanilla pudding mix 1 jar (7 oz) marshmallow fluff 1/2 cup butter 1/3 cup powdered sugar 1/2 tsp vanilla extract 1/4 tsp salt 2 teaspoons very hot water Marshmallow Buttercream (recipe & ingredients follow) Directions: 1.
Timeline Photos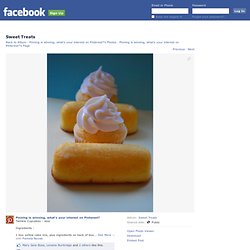 Lemonade Cupcakes with Fresh Raspberry Frosting
The boys and I recently discovered the Whimsical Cake Studio in Edmonton, Alberta – a divine little shop with a myriad of cupcake flavors, including a lemon cake with raspberry frosting. This struck me as a particularly interesting and summery little cake – reminiscent of lemonade, in fact – and a great use of fresh raspberries. There are always some that are a bit squishy that wind up destined for smoothies – pureeing them and beating them into buttercream is pretty fantastic, too. I imagine a fresh raspberry buttercream would be quite divine on chocolate cupcakes – that's next on my to-do list. Beating the lemon zest with the butter and sugar releases more lemon flavor; to boost it even further, add the zest of two lemons.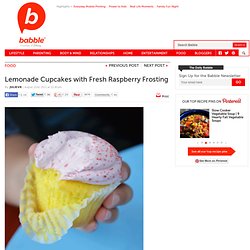 I have a feeling owls are right up there with dogs as the Animal Most Often Made in Cupcake Form. What do you think? These wide-eyed Oreo owl cupcakes are by blogger Food Snots, where you can get the recipe. Is it just me, or do each of them seem to have a slightly different expression on their faces? I have such a weakness for any kind of animal cupcake; there's something about them that just makes me smile, and I needed a smile.
The owl cupcake Oreo eyes have it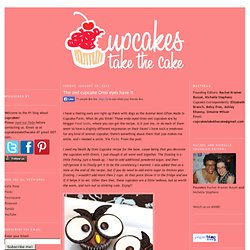 Joe's Molten Marshmallow-Chocolate Cakes Recipe
I made these for my boys (and my daughter, too - can't leave anyone out!) and they were ALL GONE within 20 minutes of me putting them on the table. Super easy to make, super delicious, and super cute when you cut one in half! Ingredients: 1 package cake mix, chocolate 1 package strawberries, cleaned and hulled 1 package pudding, chocolate Fresh mint sprigs,optional but awesome Directions: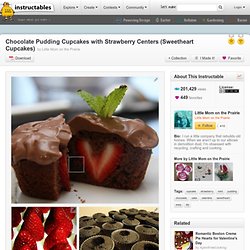 Chocolate Pudding Cupcakes with Strawberry Centers (Sweetheart Cupcakes)
Peanut Butter Fudge Coffee Ice Cream Cupcakes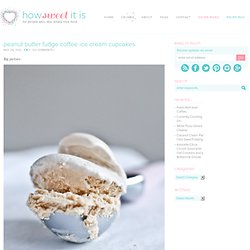 Big picture. That's what these are… big picture cupcakes. As in, make-these-for-someone-you-really-really-REALLY-like big picture cupcakes. Or like… try to think about the big picture when you stop to pump gas into your car, decide to do a good deed for yourself and throw away some random gum wrappers, water bottles, receipts and um, the remnants of about 16 granola bars while you're fueling up and then proceed to THROW YOUR CAR KEY into the trash can along with everything else. The trash can at the gas station. Only one of the dirtiest places on Earth.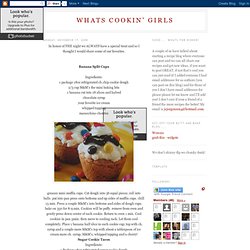 In honor of FHE night we ALWAYS have a special treat and so I thought I would share some of our favorites. Banana Split Cups Ingredients:
11/17/08
Irish Car Bomb Cupcakes Recipe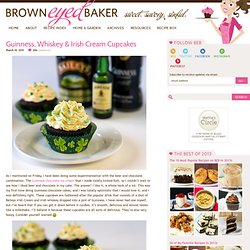 As I mentioned on Friday, I have been doing some experimentation with the beer and chocolate combination. The Guinness-chocolate ice cream that I made totally kicked butt, so I couldn't wait to see how I liked beer and chocolate in my cake. The answer? I like it, a whole heck of a lot. This was my first time doing Guinness-chocolate cakes, and I was totally optimistic that I would love it, and I was definitely right.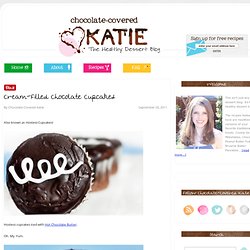 Also known as Hostess Cupcakes! Hostess cupcakes iced with Hot Chocolate Butter. Oh. My.Yum.
Cream Filled Chocolate Cupcakes
Mint Chocolate Chip Cupcakes
Mudslide Cupcakes
Now, don't be hatin', I didn't mean to do it! I know you're either gonna love or curse me for these. Sometimes a girl just needs her sugar hit, that's my excuse for these outrageously good cupcakes and I'm sticking to it. That and the fact it was a rainy day when I baked them and I was bored.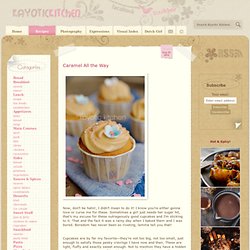 Caramel All the Way
Pink Lemonade Cupcakes makes 22-24 regular size cupcakes For the cake batter: 2 1/2 cups flour, 2 cups sugar, 2 teaspoons baking soda, 1/2 teaspoon salt, 2/3 cup oil (canola or vegetable), 1 3/4 cup water, 1/2 teaspoon vanilla extract, 2 teaspoons vinegar, juice and zest from 1 lemon. In a bowl mix together all the dry ingredients (flour, sugar, baking soda, salt) and zest.
Pink Lemonade Cupcake Recipe