Cheesecake
Philadelphia 3-Step Cookie Dough Cheesecake « A Thought Chronicle. Ingredients: - 2 pkg. (8 oz. each) Philadelphia Cream Cheese, softened - 1/2 cup sugar - 1/2 tsp. vanilla - 2 eggs.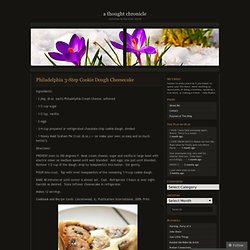 The Gluten Free Scallywag: Gluten Free Recipe: Nutella Cheesecake Pots. Sometimes, you want to bake something sweet but you are out of inspiration.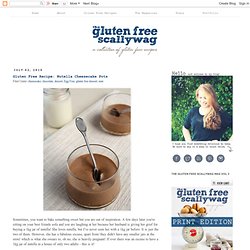 A few days later you're sitting on your best friends sofa and you are laughing at her because her husband is giving her grief for buying a 1kg jar of nutella! She loves nutella, but I've never seen her with a 1kg jar before. It is just the two of them. Chocolate Chip Cheesecake. Sopapilla Cheesecake. Have you ever tried something for the first time and thought to yourself, "Does it get any better than this?!"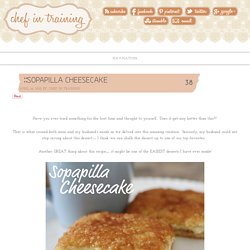 That is what crossed both mine and my husband's minds as we delved into this amazing creation. Seriously, my husband could not stop raving about this dessert… I think we can chalk this dessert up to one of our top favorites. Another GREAT thing about this recipe… it might be one of the EASIEST desserts I have ever made! By Chef in Training April 16, 2012. Chocolate covered strawberry pie. Here's another pinterest recipe!!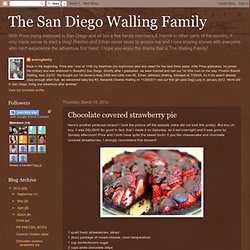 I took the picture off the website (mine did not look this pretty). But boy oh boy, it was DELISH!! No Bake Mocha Frappuccino Cheesecake. I just finished having a Starbucks Light Mocha Frappuccino, and I thought, why not put these flavors into a no bake cheesecake!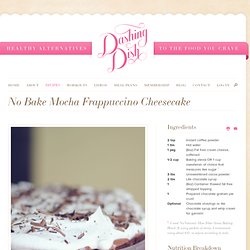 This cheesecake is smooth, chocolatey, and creamy and it doesn't weigh you down like an average cheesecake does! This recipe is quick and easy to make, and the perfect fix to any chocolate craving! This recipe has 1/3 of the fat and 1/2 of the calories of the average chocolate cheesecake~(but shh… it's so tasty, no one will ever know!) Chilly Chocolate Mini Cheesecakes. It's almost VALENTINE'S DAY, which means LOVE and a LOVE FOR CHOCOLATE is in the air!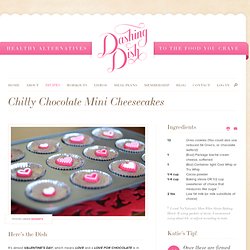 So in an effort to satisfy the desire for a 'decadent' chocolate dessert, I used real Oreo cookies as the crust, and in an effort to make these cute little cheesecake cups 'lightened up' I used a light and creamy ingredient~ Cool Whip! The Cool Whip allows the filling of these cheesecake cups to be fluffy and creamy (even when frozen!) I served these up to my favorite taste testers (my hubby and sister), and they couldn't stop raving about how rich and chocolatey they were. Chocolate Chip Mini Cheesecakes. The only thing better than a full sized cheesecake is a mini cheesecake.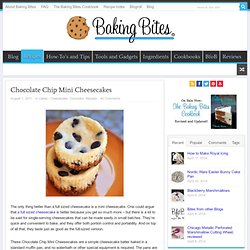 One could argue that a full sized cheesecake is better because you get so much more – but there is a lot to be said for single-serving cheesecakes that can be made easily in small batches. They're quick and convenient to bake, and they offer both portion control and portability. And on top of all that, they taste just as good as the full-sized version. These Chocolate Chip Mini Cheesecakes are a simple cheesecake batter baked in a standard muffin pan, and no waterbath or other special equipment is required. The pans are lined with muffin wrappers, which make them easy to remove after baking, and a graham cracker crumb mixture is pressed into each one. Blackberry Lemon Goat Cheese Cheesecakes in a Jar | Dash of East. What is better than cheesecake?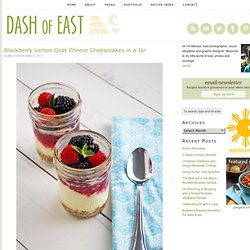 Goat cheese cheesecake. And even better than that? Serve it in a jar. Plus, it's all the rage right now. There were many different things and events that inspired this recipe. Gingerbread Cheesecake. Sweet Potato Cheesecake with Ginger Pecan Crust. The first time I had sweet potato cheesecake was at the famed Galatoire's in New Orleans.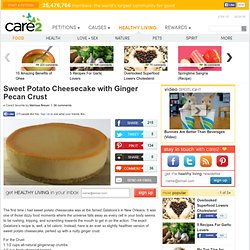 It was one of those dizzy food moments where the universe falls away as every cell in your body seems to be rushing, tripping, and scrambling towards the mouth to get in on the action. The exact Galatoire's recipe is, well, a bit caloric. Instead, here is an ever so slightly healthier version of sweet potato cheesecake, perked up with a nutty ginger crust. For the Crust: 1 1/2 cups all-natural gingersnap crumbs 1/3 cup finely chopped pecans 1/4 teaspoon fresh minced ginger 3 tablespoons melted butter For the Filling: 9 ounces organic cream cheese, softened 1/3 cup maple syrup 1/2 cup date sugar (brown sugar may be substituted here) 1 3/4 cups sweet potatoes, mashed 2 large eggs, beaten 1/2 cup organic low fat buttermilk 2 tablespoons cornstarch 1/2 teaspoon ground cinnamon 1/4 teaspoon ground nutmeg.
---