Cakes
Chocolate-Rum Swiss Roll. Chocolate-Covered OREO Cookie Cake recipe. New Post: Red Velvet Better Than Sex Cake. I decided to rename this cake.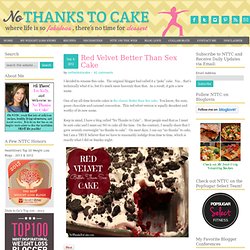 The original blogger had called it a "poke" cake. Yes… that's technically what it is, but it's much more heavenly than that. As a result, it gets a new name. One of my all-time favorite cakes is the classic Better than Sex cake. Crockpot Chocolate Lava Cake. Well here it is my friends.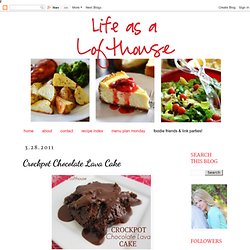 The wonderful cake I was telling you about, that was baking in my CROCKPOT! I know there are many, many awesome things you can do in a crockpot, but I seriously had never heard of baking cakes in them! Chocolate Shortcakes with Bananas and Caramel Recipe. Chocolate Stout Cake With Porter Ganache. I'm going to start this post by telling you that I am biased.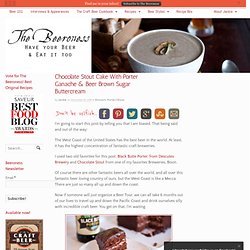 That being said and out of the way: The West Coast of the United States has the best beer in the world. At least, it has the highest concentration of fantastic craft breweries. I used two old favorites for this post. Lemon Pilsner Cake. If you have ever had the opportunity to talk to a brewmaster, you have seen it.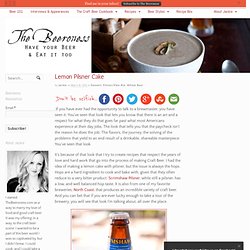 You've seen that look that lets you know that there is an art and a respect for what they do that goes far past what most Americans experience at their day jobs. The look that tells you that the paycheck isn't the reason he does the job. The flavors, the journey, the solving of the problems that yield to an end result of a drinkable, shareable masterpiece. You've seen that look. Chocolate Porter Beer Tart With Porter Whipped Cream. The creaminess of chocolate pairs so well with a well crafted porter.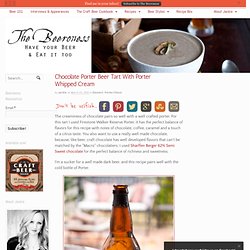 For this tart I used Firestone Walker Reserve Porter, it has the perfect balance of flavors for this recipe with notes of chocolate, coffee, caramel and a touch of a citrus taste. You also want to use a really well made chocolate, because, like beer, craft chocolate has well developed flavors that can't be matched by the "Macro" chocolatiers. I used Sharffen Berger 62% Semi Sweet chocolate for the perfect balance of richness and sweetness. I'm a sucker for a well made dark beer, and this recipe pairs well with the cold bottle of Porter. Saison Caramelized Pineapple Beer Shortcakes.
Beer people are so often missunderstood and stereotyped.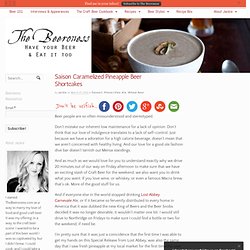 Don't mistake our inherent low maintenance for a lack of opinion. Don't think that our love of indulgence translates to a lack of self-control. Just because we have a adoration for a high calorie beverage, doesn't mean that we aren't concerned with healthy living. And our love for a good ole fashion dive bar doesn't tarnish out Mensa standings. Chocolate Porter Strawberry Shortcakes With Beer Whipped Cream. (Chocolate Porter Strawberry Shortcakes With Beer Whipped Cream) I'm taking a huge risk here.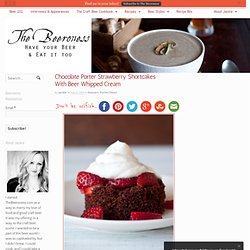 You may have taken one look at this post and decided that I've lost my magic. Chocolate beer cake is as common as Nascar sweatpants in Walmart. But unlike motor sports fashion blunders in public, I loved this dessert. I'm combining a past evoking childhood treat with my beer loving present tense self, and topping it with beer whipped cream. Ultimate S'More Anniversary Cake. On Monday we celebrated 7 years of marriage.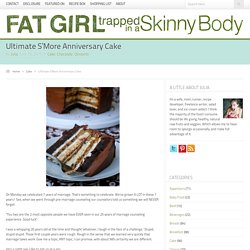 That's something to celebrate. We've grown A LOT in these 7 years! See, when we went through pre-marriage counseling our counselors told us something we will NEVER forget: "You two are the 2 most opposite people we have EVER seen in our 25 years of marriage counseling experience. Good luck"
Muffins. Chocolate Frosting Shots! If you received an email from Pinterest saying I didn't want recipes pinned, this is NOT true!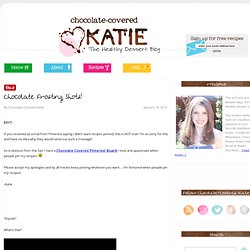 I'm so sorry for this and have no idea why they would send out such a message! As is obvious from the fact I have a Chocolate Covered Pinterest Board, I love and appreciate when people pin my recipes. Please accept my apologies and by all means keep pinning whatever you want… I'm honored when people pin my recipes! -Katie. How to Change Plain Flour to Cake Flour. Smokey Porter Molasses Chicken Skewers Beer is a natural meat tenderizer.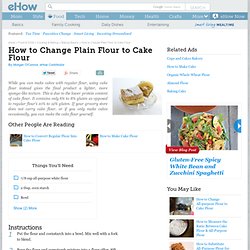 When it comes to grilling and cook-outs, nothing pulls double duty like a good brew. It'll give you malty flavor and tender chicken, all while giving you something nice to sip while you're in … Magical Frosting. Dashing Dish™ Ice Cream Birthday Cake. I have been making this ice cream birthday cake for years now for every member of my family! I always switch up the flavors depending on who I'm making it for. For my dad, I generally use a light coffee ice cream and make a mocha-chip version, and an almond joy version for my mom.
Chocolate Cake… with a crazy ingredient! This might be the most "out there" recipe I've ever posted. And no, the secret ingredient is not beans. My boyfriend has proclaimed this to be "the best chocolate cake I've ever put in my mouth." Rich Chocolate Cake w/ Chocolate Protein Frosting. Cooking with Kandee: Best Chocolate Cake and Icing Recipe. Totally Awesome, Fer Sure Dude. In the words of Hannibal from the A Team…"I love it when a plan comes together." Yes, I am a product of the 80′s. I wore scrunchies in my hair, big sweaters, neon colors, stir-up pants and my Sony Disc man was the coolest thing ever! Lisa's Chocolate Chocolate Chip Cake Recipe. Banana Split Surprise Cake. This is a sponsored review from BlogHer and Kraft. Banana Split Surprise Cake ~ Get your eating pants on; this is a fork-to-mouth, plate-clearing addiction!
This three-story cake has two layers of banana flavored cake with a surprise cheesecake-centered layer dressed up with a funfetti effect. Chocolate Oreo Cream Cake. Clementine Cake. Chocolate Pave. Flourless Chocolate Cake Recipe. Magic Love Cakes (Page 3) Magic Love Cakes (Page 2) Chocolate Beet Cake. Chocolate-Ginger Cake with Bourbon Sauce. No Bake Chocolate Cake Recipe. Vegan Chocolate Peanut Butter Crock Pot Cake - Vegan Crock Pot Cake - Crockpot Slow Cooker Chocolate Cake.
Recipe} The Most AMAZING Chocolate Cake… EVER.
---