Breads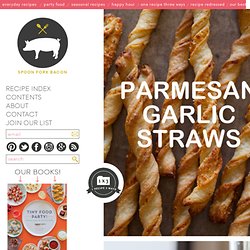 These babies are the perfect little pre dinner appetizers. They are super pretty, especially if you nail the twist pre bake. I prefer to serve these in a glass, or a something like a weck jar to show off their long slender shape. You could totally pair these with a myriad of dipping sauces if you wanted, but they are also just perfect by themselves.
Parmesan Garlic Straw recipe
Difficulty:Medium | Total Time: | Active Time: | Makes:8 (3-inch) biscuits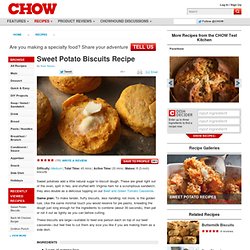 Sweet Potato Biscuits Recipe
Last night we had dinner with our wonderful neighbours Barb and Clif. Barb is only home one week a month as she works out of town.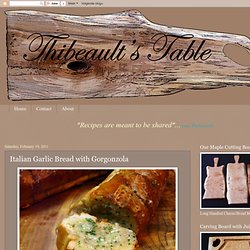 Thibeault's Table: Italian Garlic Bread with Gorgonzola
Jalepeno Cheddar Spoon Bread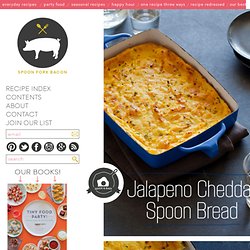 It's really awesome when two great things come together into one. For instance, R2D2 and C3PO, Harry Potter and magic, bread and butter, and corn and spoon bread. So, I give you: jalapeño cheddar spoon bread! This recipe is corn bread in a souffle pudding texture situation. Ok, i know what you're thinking. Why would I choose jalapeno cheddar spoon bread over regular corn bread?
While the work piles up, and time off is non-existent, staying sane for me happens with the little things. Here are some of my little things: 1. Do something that makes you feel pretty.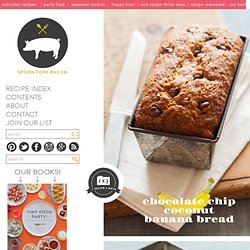 Chocolate Chip Coconut Banana Bread recipe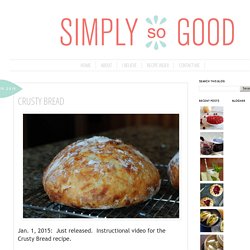 I must begin by saying where the recipe originated, if in fact it originated anywhere...really. I think bread has been baked for centuries using flour, salt, water, and yeast or other form of leavening. As far as I know the recipe for "No-Knead" bread dough was printed in the New York times.
Beer bread is simple.
Gingerbread Ale Beer Bread - The Beeroness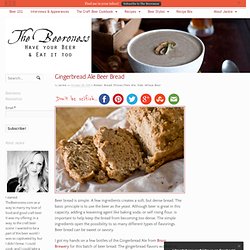 Napa SmithWheat is a perfect baking beer. It has crisp, clean flavors, sweetness and bold tones that hold up to the oven. A smooth wheat beer with citrus and peach notes.
Salted Hefeweizen Brioche Rolls - The Beeroness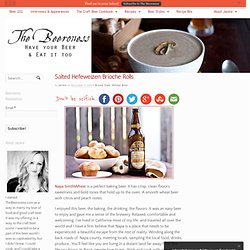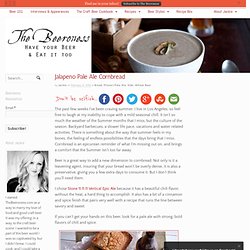 The past few weeks I've been craving summer. I live in Los Angeles, so feel free to laugh at my inability to cope with a mild seasonal chill. It isn't so much the weather of the Summer months that I miss, but the culture of the season.
Jalapeno Pale Ale Cornbread - The Beeroness
Cheddar Beer Bread Muffins - The Beeroness
I've noticed something about you. You seem to have no interest in healthy beer recipes. You want your beer recipes to be a flagrant indulgence of full flavored stimulation.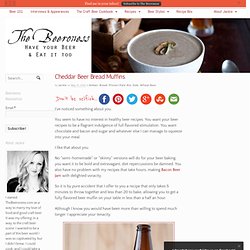 Tortillas are one of those glorious foods that I have found myself continuing to make from scratch.
Beer Tortillas - The Beeroness
Artichoke Bread
With the big game day approaching I have been thinking about snacks more. Last weekend I got the chance to try making an artichoke bread that has been on my mind for a while. The artichoke bread is essentially an artichoke dip that is baked on bread until the crust of the bread perfectly light and crispy, the dip is nice and warm, the cheesy topping is melted and golden brown.
Thursday, May 3, 2012
Raspberry- Dark Chocolate Banana Bread | RecipeBoy
Cheesy Garlic Cauliflower Bread Sticks | Mom, What's For Dinner?
313K+A few days back I made pizza from Cauliflower and it turned out awesome. So I started thinking... what about garlic cheese bread?
My husband and I waited tables at Outback Steakhouse while we were in college and ate our share of Bloomin' Onions.
Texas Roadhouse Sweet Rolls and Special Butter
Sweet and Spicy Guinness Quick Bread
Quick & Tasty Brazilian Cheese Bread
Delicious Dinner Rolls
Recipe of the Week ~ Texas Roadhouse Rolls & Cinnamon Butter | A Godly Heritage
Homemade Flour Tortillas
Cloverleaf Rolls
Recipe for Garlic Cheese Bread at Life
TWD: Bacon, Cheddar and Scallion Biscuits
Cheese & Onion Biscuit Bread
Rosemary and Garlic Butter Rolls
Cheddar and Jalapeño Spirals
Parmesan Twist
Herbed Bread Sticks