Beauty
Hair. Makeup. Wax/sugar. Nails. Annie's Winter Lip Balm Formula. Nothing takes years off our looks like smooth, soft lips.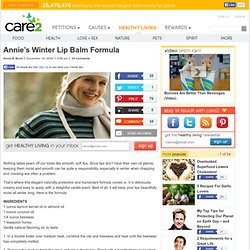 Since lips don't have their own oil glands, keeping them moist and smooth can be quite a responsibility, especially in winter when chapping and cracking are often a problem. That's where this elegant naturally-protective and humectant formula comes in. It is deliciously creamy and easy to apply, with a delightful vanilla scent. 8 Beauty Tips with Strawberries. By Cait Johnson, author of Earth, Water, Fire, and Air (Skylight Paths, 2003).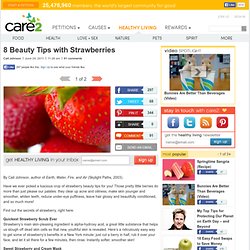 Have we ever picked a luscious crop of strawberry beauty tips for you! Those pretty little berries do more than just please our palates: they clear up acne and oiliness, make skin younger and smoother, whiten teeth, reduce under-eye puffiness, leave hair glossy and beautifully conditioned, and so much more! Slather Your Lips With DIY Cocoa Lip Balm.
What could be better than protecting your lips from the winter's chill by slathering on chocolate?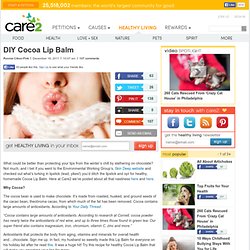 Not much, and I bet if you went to the Environmental Working Group's, Skin Deep website and checked out what's lurking in lipstick (lead, yikes!) You'd ditch the lipstick and opt for healthy, homemade Cocoa Lip Balm. Here at Care2 we've posted about all that nastiness here and here. Why Cocoa? Honey Do: Kitchen Cupboard Beauty Tips. There is simply no sweeter way to bring a smooth glow to your skin and hair than with glorious golden honey.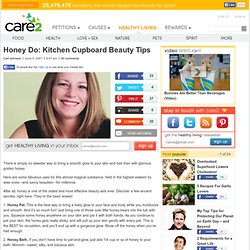 Here are some fabulous uses for this almost-magical substance, held in the highest esteem by wise ones—and savvy beauties—for millennia. After all, honey is one of the oldest and most effective beauty aids ever. Discover a few ancient secrets, right here. They're the bees' knees! 1. Reduce Cellulite and Get a Tan! | The Passionate Olive. Olive oil has long been known for its beauty benefits.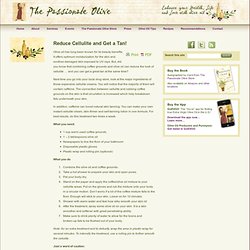 It offers optimum moisturization for the skin and soothes damaged skin exposed to UV rays. But, did you know that combining coffee grounds and olive oil can reduce the look of cellulite … and you can get a great tan at the same time? Next time you go into your local drug store, look at the major ingredients of those expensive cellulite creams. You will notice that the majority of them will contain caffeine. The connection between cellulite and rubbing coffee grounds on the skin is that circulation is increased which help breakdown fats underneath your skin.
Modern Alternative Mama - Blog - Green Personal Care: No 'Poo and Oil Cleansing. Image by OrganicBeautyCare Quite awhile ago, I did write about Natural Personal Care Products.
But they can get expensive and many of them are not safe. Even "organic" beauty products in health food stores are filled with sodium lauryl sulfate and sodium laureth sulfate, polysorbate 80, and lots of other unsafe chemicals (did you know that?). It can be really hard to figure out exactly what is safe, and what is just a more expensive "organic" version of the same old stuff. Recipe for Oil Cleansing and No Poo?
---