Organisation
How to Add Tags in Windows Files For Quick and Easy Searching. Searching for files or folders in Windows can be a bit tricky, if you are not aware of the location where the file or folder is stored.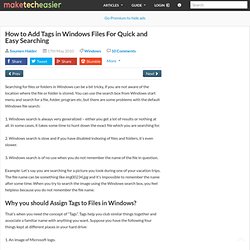 You can use the search box from Windows start menu and search for a file, folder, program etc, but there are some problems with the default Windows file search: 1. Windows search is always very generalized – either you get a lot of results or nothing at all. In some cases, it takes some time to hunt down the exact file which you are searching for.
Win7
How to Organize Digital Information: Web sites, blogs, and more. "The flood of data on the Web has reached mind-boggling proportions."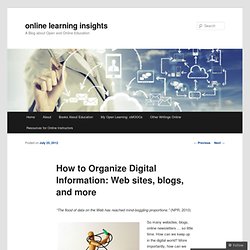 (NPR, 2010) So many websites, blogs, online newsletters … so little time. How can we keep up in the digital world? More importantly, how can we transform information into knowledge? Before information becomes knowledge it's data, yet another challenge is finding good data when it's needed. CloudTops Web Guide - Interactive Web Navigation. How to organize your digital life. Computers are an integral part of our lives now and life is almost impossible to conceive without digital information and data.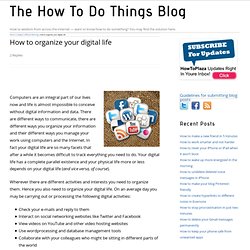 There are different ways to communicate, there are different ways you organize your information and their different ways you manage your work using computers and the Internet. In fact your digital life are so many facets that after a while it becomes difficult to track everything you need to do. Your digital life has a complete parallel existence and your physical life more or less depends on your digital life (and vice versa, of course).
Office
Mp3.
---