Entrees
Best-Ever Brussels Sprouts with Sausage - Healthy Recipe Finder | Rodale. 20 Easy One-Pot Meals. Super Cool Food Blog: Five Minute Vegan Chocolate Mug Cake. Better Than Takeout Orange Chicken. Yesterday as I stood in the kitchen trying to figure out what to make for dinner I wondered to myself, how do those people do it on those shows where they are given random ingredients and are suppose come up with something genius.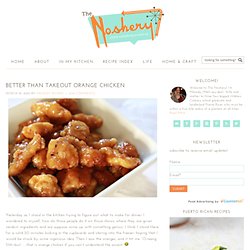 I think I stood there for a solid 20 minutes looking in the cupboards and staring into the freezer hoping that I would be struck by some ingenious idea. Then I saw the oranges, and it hit me "O-raang Shh-ikun"….that is orange chicken if you can't understand the accent. I love orange chicken, and I almost always order # 14 Orange Chicken when we order Chinese take out and I wondered to myself if I could make it better at home. This recipe most definitely delivered! Ha ha Chinese food…delivered….get it? Pasta In Garlic and Olive Oil (with or without spinach) « Cooking With Baby.
This is the easiest side dish on the planet.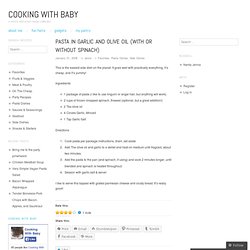 It goes well with practically everything, it's cheap, and it's yummy! Ingredients. Cheesesteak Sandwich. The famous sandwich from Philly is a nutritionist's nightmare: mounds of greasy beef and fried onions; a massive, oil-soaked hoagie roll; and to top it all off, a viscous deluge of Cheez Whiz (that's right, traditional cheesesteaks are made with Whiz).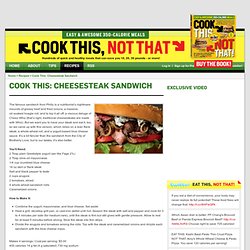 But we want you to have your steak and eat it, too, so we came up with this version, which relies on a lean flank steak, a whole-wheat roll, and a yogurt-based blue cheese sauce. It's a bit fancier than the sandwich from the City of Brotherly Love, but to our tastes, it's also better. You'll Need: 2 Tbsp plain Greekstyle yogurt (we like Fage 2%) 2 Tbsp olive-oil mayonnaise 1/4 cup crumbled blue cheese 16 oz skirt or flank steak Salt and black pepper to taste 2 cups arugula 2 tomatoes, sliced 4 whole-wheat sandwich rolls Caramelized onions.
Chicken Pot Pie. There's no need to worry about calories or trans fat with this comfort food recipe Pot pies may be one of America's favorite comfort foods, but there's nothing comforting about a dish that packs nearly 4 days' worth of trans fat.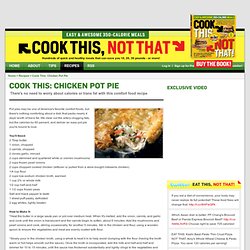 We clear out the artery-clogging fats, but the calories by 60 percent, and deliver an easy pot pie you're bound to love. You'll Need: 2 Tbsp butter 1 onion, chopped 2 carrots, chopped 2 cloves garlic, minced 2 cups stemmed and quartered white or cremini mushrooms 2 cups frozen pearl onions 2 cups chopped cooked chicken (leftover or pulled from a store-bought rotisserie chicken) 1/4 cup flour 2 cups low-sodium chicken broth, warmed 1 cup 2% or whole milk 1/2 cup half-and-half 1 1/2 cups frozen peas Salt and black pepper to taste 1 sheet puff pastry, defrosted 2 egg whites, lightly beaten How to Make It: *Heat the butter in a large saute pan or pot over medium heat.
Lasagna Rolls. Most restaurant lasagnas are soupy messes.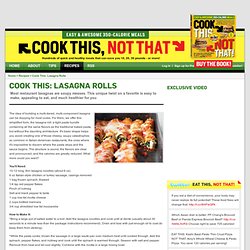 This unique twist on a favorite is easy to make, appealing to eat, and much healthier for you The idea of building a multi-tiered, multi-component lasagna can be dizzying for most cooks. For them, we offer this simplified form, the lasagna roll: a tight pasta bundle containing all the same flavors as the traditional baked pasta, but without the daunting architecture.
---