Aide
Changer seulement le mot de passe root (Page 1) / Autres logiciels et problèmes généraux
Webmin is a web-based interface based on Perl for system administration under Unix-based systems. With Webmin, you can easily set up, via your web browser, new user accounts, manage disk quotas, configure files, control the Apache server as well as MySQL and PHP. In this guide, we will see how to install Webmin on a server running Ubuntu 11.04/11.10/12.04.Webmin Installation Before we start, you should first install the LAMP web server on your system.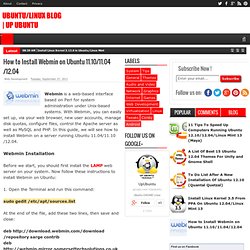 How to Install Webmin on Ubuntu 11.10/11.04 Server
Le paquet Webmin ayant été abandonné par Debian , Ubuntu a dû suivre cet événement, ce qui cause l'indisponibilité de Webmin sur les dépôts officiels. Il y a tout de même trois méthodes pour l'installer : par l'installation du paquet webmin disponible sur le dépôt du projet (idéal pour obtenir les dernières mises à jours → Installation depuis un dépôt Il existe également une installation alternative . Intérêt ?
webmin