Courtreporter1
Purse patterns
Furniture DIY. CUTE skirt patterns. General crafts:) Pattern ideas!!!! Camera Helps! Cutest things! Giant Picture - tutorial! I posted awhile an image that showed off the giant picture I made for my girls' room - finally, the tutorial is here!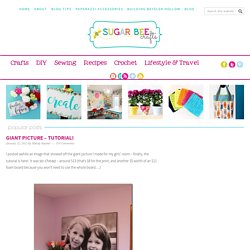 It was so cheap - around $13 (that's $8 for the print, and another $5 worth of an $11 foam board because you won't need to use the whole board....) UPDATE Sept 2012: - - I LOVE this project so much that I made another one for my Dining Room - and this time I mounted it on plywood.
Deco for house or room. Whimsical Thanksgiving. Cool kid stuff. Photo ideas. Letters alphabet. Serving dish ideas. Good quotesw. Jewelry. Recipes. Fun games!!! Misc crafts. Ribbon ideas. Deoration candles.
Button crafts. Pet projects. Picture painting projects. Paint chip projects! Christmas gifts!
Chalk board paint ideas. Download labels. Book crafts. Vases. Outdoor crafts. Christmas crafts and ornaments. Flower decorations beautiful. Fun food! Old t shirt ideas. Pillow ideas.
Wrapping paper ideas.
---