Nails
To Minx or not to Minx – SweetTalk on the Spot. By Amanda Paige I was so excited to learn about Minx Nail Coverings, while this was quite some time ago and hard to find, I thought I would check into it again when it was more "mainstream".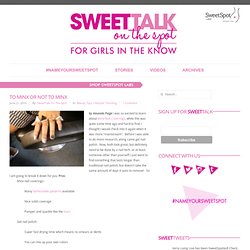 Before I was able to do more research, along came gel nail polish. Now, both look great, but definitely need to be done by a nail tech. or at least someone other than yourself! I just want to find something that lasts longer than traditional nail polish, but doesn't take the same amount of days it lasts to remove! Get Yo' Nails Did. Okay, so we're only three weeks in to this whole thing and I'm already showing you a tame look after I totally promised some of you that I'd do a newsprint nail tutorial this week.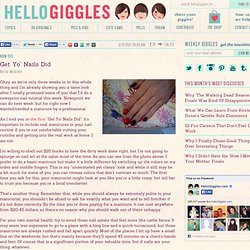 Newsprint we can do next week, but for right now I wanted/needed a manicure by a professional. As I told you in the first "Get Yo' Nails Did", it's important to include real manicures in your nail routine if you're not comfortable cutting your cuticles and getting into the real work at home. I am not. I'm willing to shell out $20 bucks to have the dirty work done right, but I'm not going to splurge on nail art at the salon most of the time.
As you can see from the photo above, I prefer to do a basic manicure but make it a little different by switching up the colors on my index and middle fingers.
---