Makeup tutorials
Makeup Artizta
Knowing the right eye makeup techniques can help you accurately and easily achieve the look you want. When applied correctly, eye shadows, eyeliners, and mascara can transform anyone from the girl next door to a ravishingly sexy siren. Learn which techniques work best and find out what's new and hot.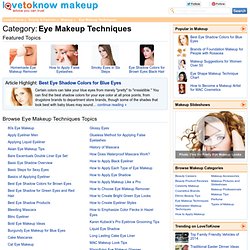 How To Get Cat Eyes - Tips For Sexy Cat Eyes
Jed Root, Inc.
Makeup Tips | Cosmetics
Makeup For Life - Beauty Advice, Makeup Tutorials, Celebrity Makeup, Product Reviews
Celebrity Makeup Breakdown: Kristen Stewart at Eclipse New York Screening « Makeup For Life - Beauty Advice, Makeup Tutorials, Celebrity Makeup, Product Reviews
I have always LOVED Kristen Stweart's makeup looks and KStewartnews recently did an exclusive interview with Kristen's makeup artist, Beau Nelson – who also happened to be one of my favorites – on how to nail the gorgeous smoky eye below! "Kristen had just changed her hair color, and I knew it was going to be a really amazing red carpet moment and be photographed to death so I wanted to make sure she looked cool, chic, and beautiful. Adir Abergel her hairstylist did a beautiful loose and messy braided up-do which complimented her at the time newly strawberry blonde hair color (courtesy of Marie Robinson, the UBER talented NY colorist), this made Kristen's naturally beautiful complexion look even more peaches and creme and made her look a bit younger and more innocent. I decided to play against that by applying dark black and cranberry shadows to her eyes to create drama and depth and enhance the green in her eyes" said Beau. Here is a how to step by step to get the eyes: 1.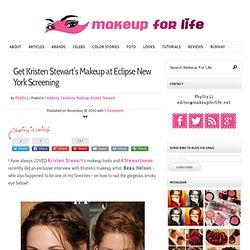 Hilary Duff – "Makeup how-to"
It´s saturday, I´m back in beautiful Monaco and life is good! As you all know I´m addicted to brown eyeshadows because it´s sofisticated, beautiful and goes with everything. However, sometimes plain brown can be a bit boring and since it´s saturday I decided to leave my comfort zone and do it with a twist. 1. As always we start with a base.
Celebrity Inspired « Makeup Geek – Tips, Video Tutorials, Reviews, & More!