A creative venture
NC STATE + UCONN - Jorge will be speaking at NC State (6pm, March 27, Hunt Library) and at U. Conn. (6:30pm, March 29, Student Union) this week! Come on by or tell your friends who go to these schools! Click here for more info! Sign up - Sign up for new comics using our e-mail subscription , RSS Feed , by liking the PHD Facebook Page , OR following us on Twitter . Procrastination without preoccupation!
How Grad School is just like Kindergarten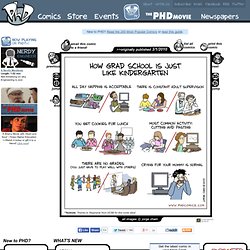 Click below for other Famous Poetry We are accepting submissions for Famous and New Love Poetry that is Romantic, Sad or funny Famous Love Poetry An online collection of Famous and upcoming Poets and their Romantic, Sad, Sensual and Passionate Love Poems.
Famous Love Poems and other Poetry about Love