WEB ARCHIVES
South Asian American Digital Archive (SAADA)
Over the past year, web pages have on average become 25% bigger . We're not talking about dimensions here, but download size. Based on the top 1,000 websites on the Internet, the average page size has gone from 626 kB to 784 kB. A 25% size increase in just one year is rather drastic. With that kind of growth, the average web page will be 980 kB in just a year (amost 1 MB!).
Website Monitoring News » Blog Archive » Web pages are getting more bloated, and here's why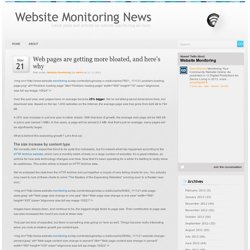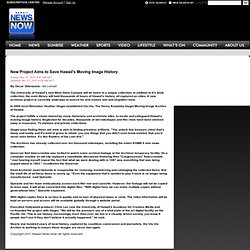 By Oscar Valenzuela - bio | email The University of Hawaii's new West Oahu Campus will be home to a unique collection. In addition to it's book collection, the main library will hold thousands of hours of Hawaii's history, all captured on video. A new archives project is currently underway to search for and restore lost and forgotten reels. In 2008 local filmmaker Heather Giugni established Ulu Ulu: The Henry Kuualoha Giugni Moving Image Archive of Hawaii.
New Project Aims to Save Hawaii's Moving Image History
Last Sunday in Montreal, I was part of the panel Digital Anthropology: Projects and Projections organized by Mike and Kim Fortun from Rensselaer Polytechnic Institute. This post will highlight the groundbreaking projects created by this diverse group of anthropologists. There is a synergy in what is being done, and I want to gather it together in one place online. I'm going to provide a list of people and projects first, and then provide a bit of commentary on the panel itself. Finally, I'll go over each project, and the accompanying talk, in depth. I know there are other great online projects out there, so please feel free to highlight them in the comments.
Digital Anthropology: Projects and Platforms | Neuroanthropology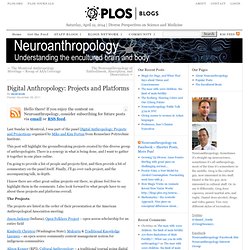 Library digitizes Holocaust testimonies
Hungry Hobos is expected to fetch £25,000 at auction next monthIts whereabouts have been unknown since before World War IIFive-minute silent cartoon was last to feature Oswald the Lucky Rabbit before he was turned into Mickey Mouse By Graham Smith UPDATED: 16:14 GMT, 28 November 2011 A long-lost Disney cartoon that features a character who was the prototype for Mickey Mouse has been discovered in a British film archive.
Rare Disney rabbit who later became Mickey Mouse is unearthed in black and white film from 1928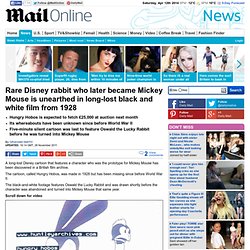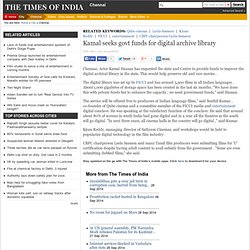 TNN Dec 3, 2011, 09.14AM IST Chennai: Actor Kamal Haasan has requested the state and Centre to provide funds to improve the digital archival library in the state. This would help preserve old and rare movies . The digital library was set up by FICCI and has around 3,500 films in all Indian languages .
Kamal seeks govt funds for digital archive library - The Times of India
We're excited to announce development of a new tool to automate the selection of websites for archiving: the Twittervane. At the moment, our selection process is manual, dependent upon internal subject specialists or external experts to contact us and nominate websites for archiving in the UK Web Archive. We benefit from their expertise and wouldn't be without it, but we recognise that this manual selection process can sometimes be time consuming for frequent selectors. It's also inevitably subjective, reflecting the interests of a relatively small number of selectors. Automated selection is an efficient and under-utilised alternative, but up until now it has been difficult to see how an automated approach could clearly identify the most popular and widely relevant websites.
Twittervane: Crowdsourcing selection - UK Web Archive Blog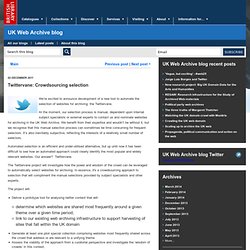 Website Monitoring News » Blog Archive » Web pages are getting more bloated, and here's why
Digital Anthropology: Projects and Platforms | Neuroanthropology
Library digitizes Holocaust testimonies | Yale Daily News
New Project Aims to Save Hawaii's Moving Image History - Hawaii News Now - KGMB and KHNL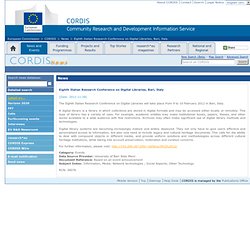 Eighth Italian Research Conference on Digital Libraries, Bari, Italy
Newsroom : Eighth Italian Research Conference on Digital Libraries, Bari, Italy