Digital Curation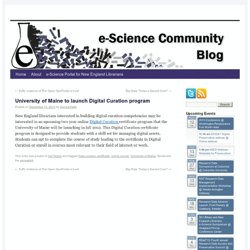 University of Maine to launch Digital Curation program | e-Science Community
New England librarians interested in building digital curation competencies may be interested in an upcoming two year online Digital Curation certificate program that the University of Maine will be launching in fall 2012. This Digital Curation certificate program is designed to provide students with a skill set for managing digital assets. Students can opt to complete the course of study leading to the certificate in Digital Curation or enroll in courses most relevant to their field of interest or work.
strodl_ipres2011_costmodel
MORE SYNERGY BETWEEN DIGITAL CURATION EDUCATION AND UNIVERSITY INVESTMENT IN ICT - IATED Digital Library
1471-2105-12-S15-S5
Altmetric
So here we are, once again ready to do what has become a holiday tradition here at New Archivist, the celebration of that which makes the cockles of my archivist heart glow warm and fuzzy (confession: I just wanted to write "cockles"). Archival Grassroots I have written more than once on what an awesome group of archivists are on web 2.0, but man, there are a lot of awesome archivists on web 2.0 right now. A case in point: Kate Theimer suggested that archivists should band together and provide Spontaneous Scholarships for folks who needed some assistance attending the 2011 SAA conference. Well, we banded together and provided money to help 26 archivists engage in the profession, many of the donations coming from people on Facebook or Twitter. Getting an early start on next year, Alison Smith and Rebecca Goldman put together Closed Stacks, Open Shutters: An Archivist Photobook with all of the proceeds going to the scholarship fund.
Thankful Archivist: 2011 « NewArchivist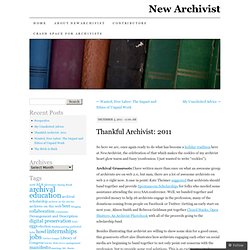 Digital Dilemma: Preserving Computer Aided Design (CAD) Files
virtualgoods2011_submission_4
Russian state censorship of religious literature is now extending to websites – and possibly also to Hare Krishna sms announcements, Forum 18 News Service has learnt. Some religious books – especially Russian-language translations of works of the late Turkish Muslim theologian Said Nursi and many Jehovah's Witness publications – have long been banned as "extremist", but Jehovah's Witness websites nationwide are now being blocked for carrying copies of their works. "In many of Russia's cities our websites have been blocked by many providers since early and mid-November," Grigory Martynov of the Jehovah's Witnesses told Forum 18 from St Petersburg on 1 December. Meanwhile, attempts to ban the Russian translation of a key book for Hare Krishna devotees – the Bhagavad-Gita As It Is – have been delayed. One of the court-appointed "experts" refused to tell Forum 18 why their analysis had not reached the Tomsk court by the 1 December deadline.
Forum 18 Search/Archive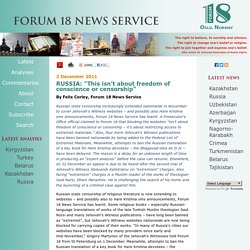 Wayback usage in the Danish webarchive - NetarchiveSuite - SBForge
Skip to end of metadata Go to start of metadata Gliffy Zoom The Danish Webarchive implementation of wayback has the following primary components. ArcRepository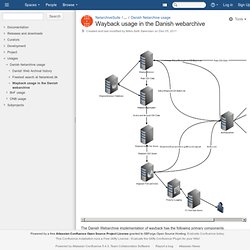 We're excited to announce development of a new tool to automate the selection of websites for archiving: the Twittervane. At the moment, our selection process is manual, dependent upon internal subject specialists or external experts to contact us and nominate websites for archiving in the UK Web Archive. We benefit from their expertise and wouldn't be without it, but we recognise that this manual selection process can sometimes be time consuming for frequent selectors. It's also inevitably subjective, reflecting the interests of a relatively small number of selectors. Automated selection is an efficient and under-utilised alternative, but up until now it has been difficult to see how an automated approach could clearly identify the most popular and widely relevant websites.
Twittervane: Crowdsourcing selection - UK Web Archive Blog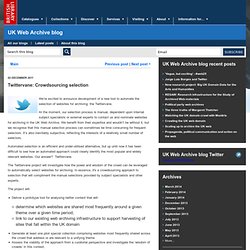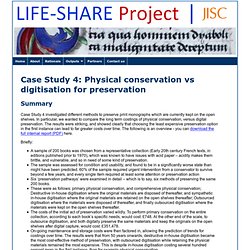 Summary Case Study 4 investigated different methods to preserve print monographs which are currently kept on the open shelves. In particular, we wanted to compare the long term costings of physical conservation, versus digital preservation. The results were striking, and showed clearly that choosing the least expensive preservation option in the first instance can lead to far greater costs over time.
Case Study 4 :: LIFE-SHARE Project
Rare Disney rabbit who later became Mickey Mouse is unearthed in black and white film from 1928 | Mail Online
hamm_ipres2011
becker_ipres2011
Safeguarding skeletons using 3D digitisation
The University of Bradford has secured almost £750,000 to safeguard skeletons from world-renowned collections based in Bradford and London. The project, funded by the 'Joint Information Systems Committee' (JISC), will use 3D laser scanning, CT scans and high resolution photography together with new clinical descriptions and historical illustrations to create a web-accessible archive of photo-realistic digital 3D models of pathological type-specimens. The skeleton collections used in the project will be from internationally renowned collections that have restricted access and are therefore usually only seen by students and researchers.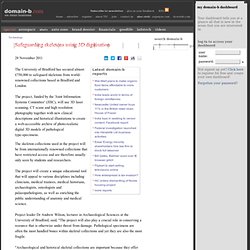 The MADE | The Museum of Art and Digital Entertainment
South Asian American Digital Archive (SAADA)