Principales marques
Bicycle
SRAM | SRAM
Site officiel Campagnolo - Composants Vélos de Route
Shimano France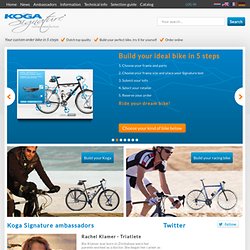 Koga Signature® - Koga Signature®... Custom Order Bicycles
This pioneering traveller from the Koga-Signature range will take you to the ends of the earth and back: from Canada to Australia, from India to Norway.
Expertly crafted bicycle frames. Carbon fiber, aluminum, steel and titanium custom framesets made in France | Cyfac
GmbH - welcome outdoors
tubus - Home
Professional Bike Tires - Page d'accueil
Continental Bicycle -
Carnac: Bienvenue
Selle Italia saddle - italian bicycle saddles
Selevhelmets - Home
LasHelmets.com - Official website
1989 : KG 96 et les débuts de JalabertLe KG96 marque un tournant technologique : jusque là, les cadres LOOK étaient réalisés à partir de tubes conçus par TVT (le leader des composites tubulaires à l'époque). Avec le KG96, LOOK développe sa propre technique de soufflage réalisée à l'aide d'un platilon, une « poche » souple disposée à l'intérieur des tubes.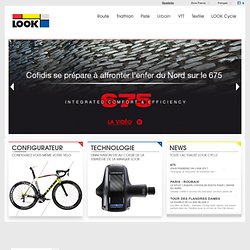 Look Cycle - Pédales automatiques et vélos carbone
XLC : x-cellent Components
WOOdman Components 2011 Road & x country freeride Mountain bikes
BBB Composants et accessoires pour cycles Route VTT Ville
Produzione mountain bike e biciclette in carbonio - TORPADO - La leggenda vive
Cadres monocoques carbone et vélos complets montés à la carte - CKT FR
Top quality bicycle components
FULCRUM Wheels - Road and Offroad bike wheels
Jey Clementz: the first-ever Enduro World Champion! History was made in Finale Ligure, Italy, during the weekend of October 19.
Mavic est un fabricant français de systèmes pour le vélo et d'équipements pour le cycliste haut-de-gamme.
Northwave