QR Codes
Opé QR Code Tesco. Quelques chiffres - Holytag : la plateforme 100% code 2D : QR Code, Code-barres 2D et solutions marketing mobile. QR Code Advertising Fail | SMS Marketing Blog. En Corée du Sud, un concept de supermarché virtuel imaginé par Tesco se transforme en opération permanente et révolutionne la distribution.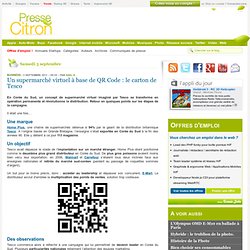 Retour en quelques points sur les étapes de la campagne. Il était une fois… Une marque Home Plus, une chaîne de supermarchés détenue à 94% par le géant de la distribution britannique Tesco. A l'origine basée en Grande Bretagne, l'enseigne s'était exportée en Corée du Sud à la fin des années 90. QR Code Advertising Fail. QR Code Advertising Fail 19th July 2011 - Posted by Derek Johnson in category Text Message Marketing #FAIL Being in the mobile marketing space I get to see a lot of different types of mobile campaigns, some good, some bad.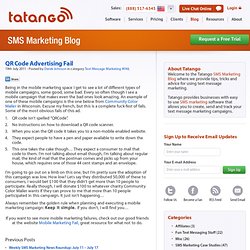 Every so often though I see a mobile campaign that makes even the bad ones look amazing. An example of one of these mobile campaigns is the one below from Community Color Mailer in Wisconsin.
---