Google rachète Motorola
Médias & Publicité : L'univers des smartphones  vit son big bang. Le rachat de Motorola par Google a bouleversé l'équilibre en place.
Une nouvelle carte se dessine. Le 15 août, en pleine torpeur estivale, le géant de l'Internet Google a donné un grand coup de pied dans la fourmilière des smartphones et des tablettes. En ­rachetant pour 12,5 milliards de dollars Motorola, pionnier de la téléphonie mobile, il s'est clairement positionné face à Apple. Could Google's Motorola Acquisition Ease Its Patent Woes? The phrase "protect the Android ecosystem" was one Google and Motorola executives bounced around frequently while discussing Google's acquisition of Motorola Mobility on a call with journalists and investors Monday morning.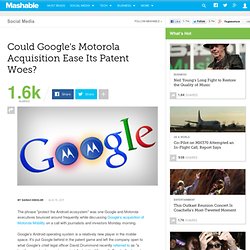 Google's Android operating system is a relatively new player in the mobile space. It's put Google behind in the patent game and left the company open to what Google's chief legal officer David Drummond recently referred to as "a hostile, organized campaign against Android by Microsoft, Oracle, Apple and other companies, waged through bogus patents.
" In contrast, Motorola was founded 80 years ago and was the first company to put a mobile phone on the market. Why the Google-Motorola Deal Is About More Than Mobile Phones. With its $12.5 billion acquisition of Motorola Mobility, Google has shown that it is ready to take its investment in mobile to the next level.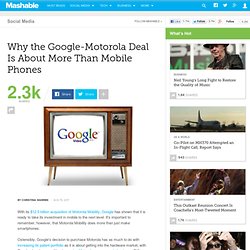 It's important to remember, however, that Motorola Mobility does more than just make smartphones. Ostensibly, Google's decision to purchase Motorola has as much to do with increasing its patent portfolio as it is about getting into the hardware market, with Google already committing to running Motorola as a separate business. Still, we find it hard to believe that Google will just ignore the opportunity to potentially better couple its Android operating system with Motorola-produced tablets or smartphones. On Google, Motorola and Rolling the Dice. The Social Analyst is a column by Mashable Editor-at-Large Ben Parr, where he digs into social media trends and how they are affecting companies in the space.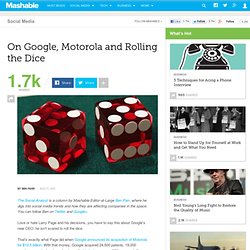 You can follow Ben on Twitter and Google+. Love or hate Larry Page and his decisions, you have to say this about Google's new CEO: he isn't scared to roll the dice. That's exactly what Page did when Google announced its acquisition of Motorola for $12.5 billion. With that money, Google acquired 24,500 patents, 19,000 employees and a hardware business that is losing money.
With an acquisition this big, there are only two outcomes: victory or defeat. Google's Motorola Acquisition Gets Animated. By Buying Motorola, Google Can Now Do Whatever The Heck They Want With Android. With the announcement of their planned $12.5B Motorola Mobility acquisition this morning, Google is buying a lot of stuff.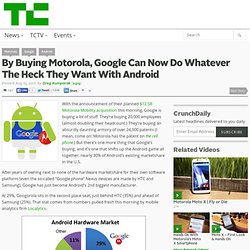 They're buying 20,000 employees (almost doubling their headcount.) They're buying an absurdly daunting armory of over 24,000 patents (I mean, come on: Motorola has the patent on the cell phone.) But there's one more thing that Google's buying, and it's one that shifts up the Android game all together: nearly 30% of Android's existing marketshare in the U.S. After years of owning next to none of the hardware marketshare for their own software platform (even the so-called "Google phone" Nexus devices are made by HTC and Samsung), Google has just become Android's 2nd biggest manufacturer. At 29%, Googorola sits in the second place seat, just behind HTC (35%) and ahead of Samsung (25%). Google's $12.5 billion Motorola Mobility bet: 6 reasons why it makes sense. Google's aims to fix multiple lingering wireless issues with its $12.5 billion purchase of Motorola Mobility and overall the deal is just crazy enough to work.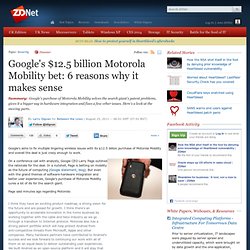 On a conference call with analysts, Google CEO Larry Page outlined the rationale for the deal. In a nutshell, Page is betting on mobility as the future of computing (Google statement, blog). Google Buys Motorola Mobility For $12.5B, Says "Android Will Stay Open" Google just announced that it is acquiring Motorola Mobility.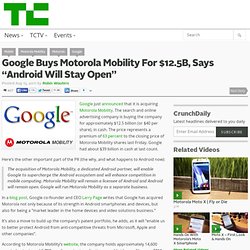 The search and online advertising company is buying the company for approximately $12.5 billion (or $40 per share), in cash. The price represents a premium of 63 percent to the closing price of Motorola Mobility shares last Friday. Google had about $39 billion in cash at last count. Here's the other important part of the PR (the why, and what happens to Android now): Google rachète Motorola Mobility pour 12,5 Milliards de dollars. La nouvelle est tombée hier après midi, Google, le géant du web et de l'internet, vient d'acquérir Motorola Mobility, soit la division mobile du groupe Motorola.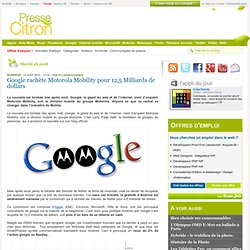 Voyons ce que ce rachat va changer dans l'industrie du Mobile. La nouvelle est tombée hier après midi, Google, le géant du web et de l'internet, vient d'acquérir Motorola Mobility, soit la division mobile du groupe Motorola. C'est Larry Page (Ndlr: le fondateur de google), en personne, qui a annoncé la nouvelle sur son blog officiel.
---