A/B Testing Tools
Multivariate testing, A/B split testing and landing page optimization software reviews | Which Multivariate? Website Optimizer. Landing Pages: Create, Publish & A/B Test Without I.T. Attention Wizard | Eye Tracking Heatmaps for Websites.
ClickTale, The leader in Heatmaps, Usability & Web Analytics. Visual Website Optimizer - A/B Testing Tool | Split Testing and Multivariate Testing Software. CrazyEgg. The redesigned home page of CrazyEgg.com now prominently features a SlideDeck product tour as the main point of visitor interaction.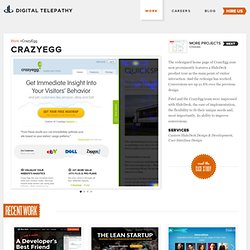 And the redesign has worked. Conversions are up 21.6% over the previous design. Patel and the CrazyEgg team were impressed with SlideDeck, the ease of implementation, the flexibility to fit their unique needs and, most importantly, its ability to improve conversions. Services. A/B testing with PHP - phpA/B.
---