Articles & Blogs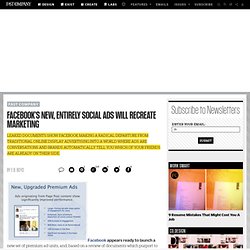 Facebook's New, Entirely Social Ads Will Recreate Marketing
Facebook appears ready to launch a new set of premium ad units, and, based on a review of documents which purport to describe them, the social network would seem to be doubling down on two core principles that mark fundamental departures from traditional advertising. First, Facebook is making the new ads social by default, meaning they will automatically show users when their friends have already Liked the advertiser. And the new formats will draw their content exclusively from posts to brands' Facebook Pages, rather from advertising copy written independently. Combined, these features make two statements about where Facebook believes the future of online advertising lies--at least in its particular universe.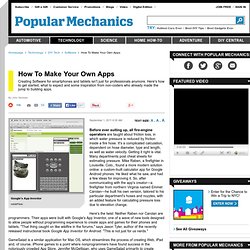 Before ever suiting up, all fire-engine operators are taught about friction loss, in which water pressure is reduced by friction inside a fire hose. It's a complicated calculation, dependent on hose diameter, type and length, as well as water velocity. Getting it right is vital. Many departments post cheat sheets for estimating pressure. Mike Raben, a firefighter in Louisville, Colo., found a more modern solution online: a custom-built calculator app for Google Android phones.
How To Make Your Own Apps
Interview With Khajag Apelian"Type Design Is Not Only About Drawing Letters" Having started his career studying under some of the best typographic minds in the world, Khajag Apelian not only is a talented type and graphic designer, unsurprisingly, but also counts Disney as a client, as well as a number of local and not-for-profit organizations throughout the Middle East. Even more impressive is Khajag's willingness to take on work that most people would find too challenging. Designing a quality typeface is a daunting task when it's only in the Latin alphabet. Khajag goes deeper still, having designed a Latin-Armenian dual-script typeface in four weights, named "Arek", as well as an Arabic adaptation of Typotheque's Fedra Display. Read more...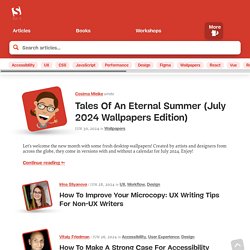 Premium Member log-in | Free Tour Free newsletter-> Tell A Friend | Past Issues | Privacy Test of the Week: Free vs Benefit Copy: Which Headline Converted More Pricing Page Visitors Into Trial Accounts?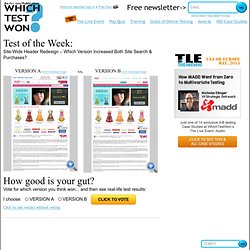 Social Media Solves the Demand Generation Riddle
Top 10 Google+ Plus Tips – Google+ Marketing Friend Connect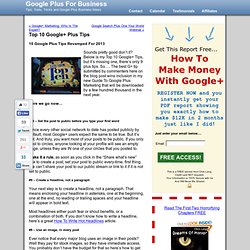 10 Google Plus Tips Revamped For 2013 Sounds pretty good don't it? Below is my Top 10 Google+ Tips, but it's missing one, there's only 9 plus tips.
How to delete every Facebook wall post, wipe your Timeline
When Facebook decided it would be a great idea to infuriate most of its user base by orchestrating its most drastic profile page change to date, I along with many others took the chance to jump in at the deep end and see what all the fuss was about. But the new Timeline will dig up some seemingly long-lost memories, and many you will wish to forget. Some will choose to delete their Facebook altogether, while others will simply leave things be, deterred by the arduous task of deleting the vast amount of data they are presented with. I kid you not, I spent four whole days wiping my Facebook timeline clean. And I stress from the bottom of my heart: there is no easy way of doing it. But thanks mostly to the wider community, there are a number of ways you can give it a go yourself.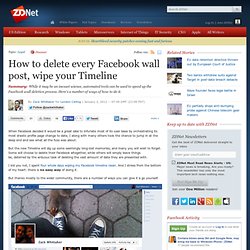 Apple product launches have become the stuff of legend. The iPad sold 300,000+ WiFi-only units on launch day. Within three days, the iPhone 4 sold 1.7 million units. The iPhone 3G sold over a million units on its launch weekend. Clearly, Steve Jobs knows how to launch a product for maximum sales. You might even wonder if you can capture a bit of his magic to kickstart your own promotions.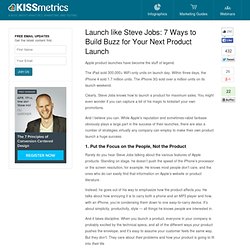 Launch like Steve Jobs: 7 Ways to Build Buzz for Your Next Product Launch