BIBLIOTECA
Peter Gabriel speaks of the loss of Nelson Mandela. Condicionales en Inglés - Third Conditional - Type III. If you can't see the Babylon translation box, use this link for <a href=" or this one for <a href=" Descárgalo gratis aquí Third Conditional, también -Type III- Refiere a una situación hipotética del pasado y se forma según la estructura : if + past perfect + conditional perfect.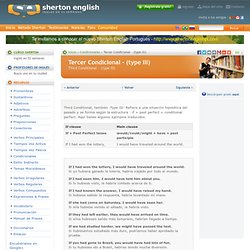 Aquí tienes algunos ejemplos traducidos. <object type="application/x-shockwave-flash" data="/audio/mediaplayer.swf" width="100" height="20"><param name="movie" value="/audio/mediaplayer.swf" /><param name="flashvars" value="file=/audio/resources/conditionals/type3.01.mp3" /></object> If I had won the lottery, I would have traveled around the world. Si yo hubiera ganado la lotería, habría viajado por todo el mundo.
VIDEOJUEGOS BIBLI
ASIGNATURAS BIBLI. BUSCADORES BIBLI. CINE BIBLI. IMÁGENES BIBLI. KIOSKO BIBLI. LIBROS BIBLI. RADIO BIBLI.
---