Mass effect 2
Cinematic Teaser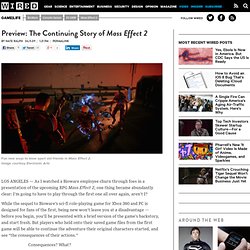 Fun new ways to blow apart old friends in Mass Effect 2.Image courtesy Electronic Arts LOS ANGELES — As I watched a Bioware employee churn through foes in a presentation of the upcoming RPG Mass Effect 2, one thing became abundantly clear: I'm going to have to play through the first one all over again, aren't I? While the sequel to Bioware's sci-fi role-playing game for Xbox 360 and PC is designed for fans of the first, being new won't leave you at a disadvantage — before you begin, you'll be presented with a brief version of the game's backstory, and start fresh.
Continuing Story of Mass Effect 2
Class: Engineer
Adept
Grunt
Characters: Subject Zero
Samara
Tali
Terminus
The Enemies
Mass Effect Does for Games What Star Wars Did for Films
Planning on buying Mass Effect 2?
BioWare: Keep Your Mass Effect Game Saves | GameLife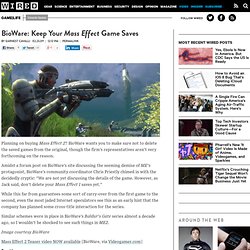 Teaser
E3 Trailer