Improbabilités
My First Fail: Adorable Funny Baby Photos
YouTube - beatboxing flute super mario brothers theme
tsw1.swf (Objet application/x-shockwave-flash)
Lunchtime Laughter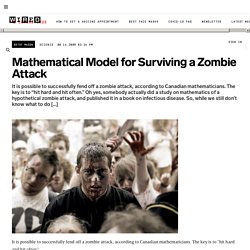 It is possible to successfully fend off a zombie attack, according to Canadian mathematicians. The key is to "hit hard and hit often."
Mathematical Model for Surviving a Zombie Attack | Wired Science
YouTube - Star Wars Theme - Disco version
YouTube - camaro 5ta gen a la mexicana
photo_taken_without_flash.jpg (Image JPEG, 294x480 pixels)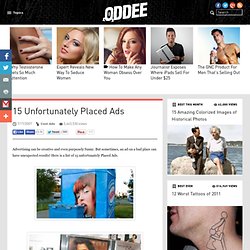 Advertising can be creative and even purposely funny. But sometimes, an ad on a bad place can have unexpected results!
Fengtastic! - Unique, mildly amusing and slightly uncomfortable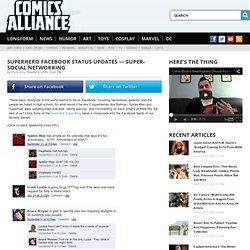 These days, everyone in the world seems to be on Facebook, including our bosses, parents, and the people we hated in high school. So what would it be like if superheroes like Batman, Spider-Man and Superman were updating their statuses, taking quizzes, and commenting on each other's profiles like the rest of us? Chris Sims of the Invincible Super-Blog takes a closer look into the Facebook feeds of our favorite heroes. (Click on each update for more info.)
Tweact.com - Have fun with your text.
dancing_compilation_27.gif (Image GIF, 300x225 pixels)
Tchaikovsky's 1812 overture reconstructed from 1000 cellphones,
inutile donc beaucoup trop classe ! by uglycharly Dec 16
The Beatles Complete On Ukulele
Beatles&Web....
draculafrankensteinzomb.gif (Image GIF, 342x320 pixels)
Autres éditions improbables
Archive » The First Fail
Archive » Dr. Cats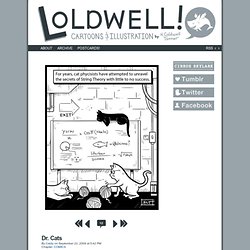 This strip might seem familiar to a few, it actually first ran in my college newspaper about a year ago. I'm just now getting around to collecting all those strips (the good ones at least) and putting them online here for people to see. It also helps when I don't have any new art or comics to show. Cat scientists will always have a special place in my heart. I'm working on a big article for friday, so be sure to check by then, but for now make sure you LISTEN TO EPISODE 3 OF THE NIGHTMARE SHARK PODCAST!