Heavy Rain
Games: Heavy Rain Aims to Liberate Game Controls | Magazine. David Cage, cofounder of the French development studio Quantic Dream, thinks the standard control scheme used in games is a straitjacket.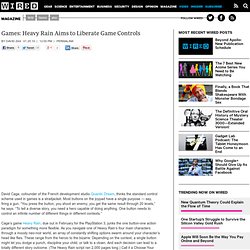 Most buttons on the joypad have a single purpose — say, firing a gun. "You press the button, you shoot an enemy; you get the same result through 20 levels," he says. "To tell a diverse story, you need a hero capable of doing anything. One button needs to control an infinite number of different things in different contexts." Heavy Rain Taps Real Anxieties for Massive Story | GameLife | Wi. By David Zax A few years ago, in a crowded shopping mall, game designer David Cage lost track of his son.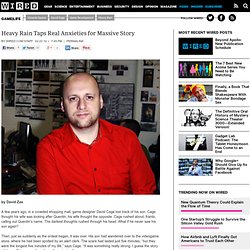 Cage thought his wife was looking after Quentin; his wife thought the opposite. Cage rushed about, frantic, calling out Quentin's name. HEAVY RAIN : En quête d'hauteur. Comme son jeu à mi parcours du loisir interactif et du spectacle cinématographique, son auteur David Cage avance sur le fil du rasoir.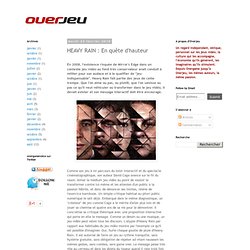 Aimer le médium jeu vidéo au point de vouloir le transformer contre lui-même et les attentes d'un public à la passion fébrile, et donc de dénoncer ses limites, relève de l'exercice kamikaze. Un simple critique habitué au pilori public numérique le sait déjà. Embarqué dans le même diagnostique, un "créateur" de jeu comme Cage a le mérite d'aller plus loin et de jouer sa chemise et quatre ans de sa vie pour le démontrer. Il concrétise sa critique théorique avec une proposition interactive qui porte en elle le message. Heavy Rain - Official E3 Trailer. Test de Heavy Rain sur Playstation 3. Fils légitime de Fahrenheit, Heavy Rain mise, tout comme son paternel, sur une implication totale du joueur.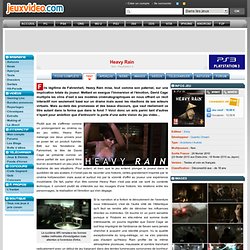 Mettant en exergue l'immersion et l'émotion, David Cage multiplie les clins d'oeil à ses modèles cinématographiques en nous offrant un récit interactif non seulement basé sur un drame mais aussi les réactions de ses acteurs virtuels. Mais au-delà des promesses et des beaux discours, que vaut réellement ce titre autant dans la forme que dans le fond ? Voici donc un avis parmi tant d'autres n'ayant pour ambition que d'entrouvrir la porte d'une autre vision du jeu vidéo...
Plutôt que de s'affirmer comme un prolongement au cinéma ou au jeu vidéo, Heavy Rain mélange ces deux univers pour se poser tel un produit hybride. Bâti sur les fondations de Fahrenheit, le titre de David Cage se présente comme un clone parfait de son grand frère tout en accentuant un peu plus le réalisme de ses situations.
---