Scientists
Charles Derber. Charles Derber is Professor[1] of Sociology at Boston College.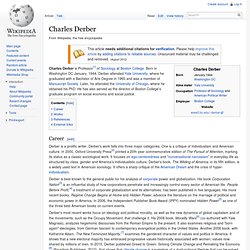 Born in Washington DC January, 1944, Derber attended Yale University, where he graduated with a Bachelor of Arts Degree in 1965 and was a member of Manuscript Society. Later, he attended the University of Chicago, where he obtained his PhD. He has also served as the director of Boston College's graduate program on social economy and social justice. Career[edit] Derber is a prolific writer. Dan Ariely. Early life and family[edit] Dan Ariely was born in New York City while his father was studying for an MBA degree at Columbia University.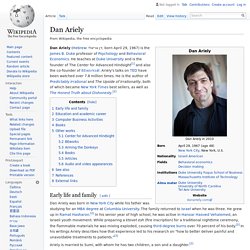 The family returned to Israel when he was three. Benjamin Zablocki. Benjamin Zablocki (born January 19, 1941) is an American professor of sociology at Rutgers University where he teaches sociology of religion and social psychology.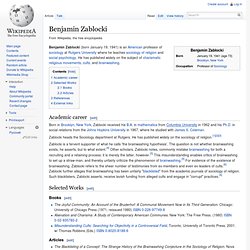 He has published widely on the subject of charismatic religious movements, cults, and brainwashing. Academic career[edit] Rafał Ohme. Rafal Ohme Rafał Krzysztof Ohme (PhD) is a professor of psychology, expert in persuasion and unconscious processes.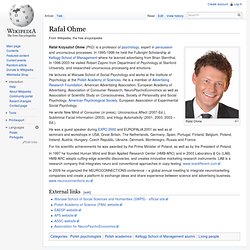 In 1995-1996 he held the Fulbright Scholarship at Kellogg School of Management where he learned advertising from Brian Sternthal. Barbara Ehrenreich. Barbara Ehrenreich (/ˈɛrɨnraɪk/;[1] born August 26, 1941) is an American writer and political activist who describes herself as "a myth buster by trade",[2] and has been called "a veteran muckraker" by The New Yorker.[3] During the 1980s and early 1990s she was a prominent figure in the Democratic Socialists of America.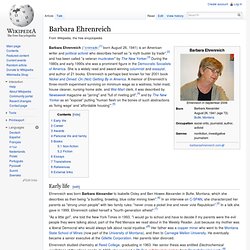 She is a widely read and award-winning columnist and essayist, and author of 21 books. Ehrenreich is perhaps best known for her 2001 book Nickel and Dimed: On (Not) Getting By in America. A memoir of Ehrenreich's three-month experiment surviving on minimum wage as a waitress, hotel maid, house cleaner, nursing-home aide, and Wal-Mart clerk, it was described by Newsweek magazine as "jarring" and "full of riveting grit",[4] and by The New Yorker as an "exposé" putting "human flesh on the bones of such abstractions as 'living wage' and 'affordable housing'".[5] Early life[edit] G. William Domhoff. George William (Bill) Domhoff (born August 6, 1936) is a research professor in psychology and sociology at the University of California, Santa Cruz.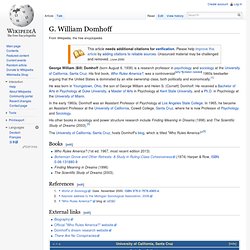 His first book, Who Rules America? , was a controversial[why?] [citation needed] 1960s bestseller arguing that the United States is dominated by an elite ownership class, both politically and economically.[1] In the early 1960s, Domhoff was an Assistant Professor of Psychology at Los Angeles State College. In 1965, he became an Assistant Professor at the University of California, Cowell College, Santa Cruz, where he is now Professor of Psychology and Sociology.
Daniel Dennett. Daniel Clement "Dan" Dennett III (born March 28, 1942)[1][2] is an American philosopher, writer and cognitive scientist whose research centers on the philosophy of mind, philosophy of science and philosophy of biology, particularly as those fields relate to evolutionary biology and cognitive science.[3] Early life and education[edit] Dennett was born in Boston, Massachusetts, the son of Ruth Marjorie (née Leck) and Daniel Clement Dennett, Jr.[6][7] Dennett spent part of his childhood in Lebanon, where, during World War II, his father was a covert counter-intelligence agent with the Office of Strategic Services posing as a cultural attaché to the American Embassy in Beirut.[8] When he was five, his mother took him back to Massachusetts after his father died in an unexplained plane crash.[9] Dennett says that he was first introduced to the notion of philosophy while attending summer camp at age 11, when a camp counselor said to him, "You know what you are, Daniel?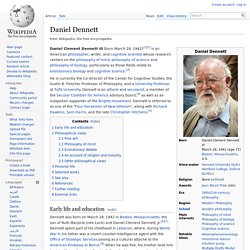 You're a philosopher. Mark Schaller. Mark Schaller is a psychological scientist who has made many contributions to the study of human psychology, particularly in areas of social cognition, stereotyping, evolutionary psychology, and cultural psychology.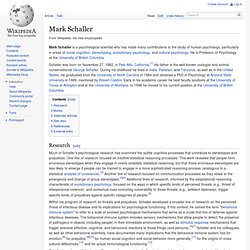 He is Professor of Psychology at the University of British Columbia. Schaller was born on November 27, 1962, in Palo Alto, California.[1] His father is the well-known zoologist and animal conservationist George Schaller. During his childhood he lived in India, Pakistan, and Tanzania, as well as in the United States. He graduated from the University of North Carolina in 1984 and obtained a PhD in Psychology at Arizona State University in 1989, mentored by Robert Cialdini. Robert Cialdini.
Robert B.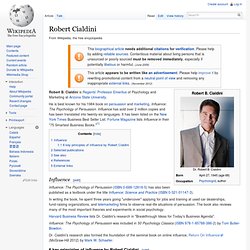 Cialdini is Regents' Professor Emeritus of Psychology and Marketing at Arizona State University. He is best known for his 1984 book on persuasion and marketing, Influence: The Psychology of Persuasion. Jerry Fodor. Jerry Alan Fodor (/ˈfoʊdər/; born 1935) is an American philosopher and cognitive scientist.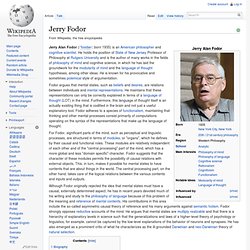 He holds the position of State of New Jersey Professor of Philosophy at Rutgers University and is the author of many works in the fields of philosophy of mind and cognitive science, in which he has laid the groundwork for the modularity of mind and the language of thought hypotheses, among other ideas. He is known for his provocative and sometimes polemical style of argumentation. For Fodor, significant parts of the mind, such as perceptual and linguistic processes, are structured in terms of modules, or "organs", which he defines by their causal and functional roles. These modules are relatively independent of each other and of the "central processing" part of the mind, which has a more global and less "domain specific" character.
---