Mystics
Benny Hinn. Toufik Benedictus "Benny" Hinn (born December 3, 1952) is a televangelist, best known for his regular "Miracle Crusades"—revival meeting or faith healing summits that are usually held in stadiums in major cities, which are later broadcast worldwide on his television program, This Is Your Day.[3] History Hinn was born in Jaffa, in 1952, in the then newly established state of Israel[1] to "an Armenian mother and Greek father".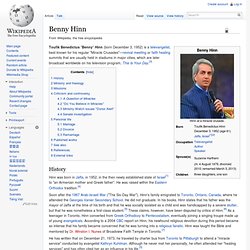 He was raised within the Eastern Orthodox tradition.[4] Robert Tilton. Robert Gibson Tilton (born June 7, 1946) is an American televangelist who achieved notoriety in the 1980s and early 1990s through his infomercial-styled religious television program Success-N-Life, which at its peak in 1991 aired in all 235 American TV markets (daily in the majority of them), brought in nearly $80 million per year, and was described as "the fastest growing television ministry in America.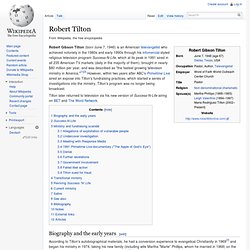 "[1][2] However, within two years after ABC's Primetime Live aired an expose into Tilton's fundraising practices, which started a series of investigations into the ministry, Tilton's program was no longer being broadcast. Tilton later returned to television via his new version of Success-N-Life airing on BET and The Word Network. Biography and the early years[edit] Creflo Dollar. Creflo Augustus Dollar, Jr. is an American televangelist, pastor, and the founder of the non-denominational World Changers Church International based in Fulton County, Georgia,[1] Creflo Dollar Ministerial Association (formerly called International Covenant Ministries), Creflo Dollar Ministries, and Arrow Records.[2] Each of these enterprises is overseen by Dollar and his wife, Taffi Dollar.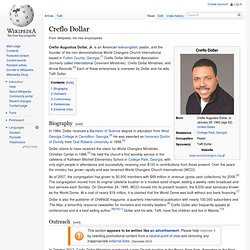 Biography[edit] In 1984, Dollar received a Bachelor of Science degree in education from West Georgia College in Carrollton, Georgia.[3] He was awarded an honorary Doctor of Divinity from Oral Roberts University in 1998.[4] Dollar claims to have received the vision for World Changers Ministries Christian Center in 1986.[5] He held the church's first worship service in the cafeteria of Kathleen Mitchell Elementary School in College Park, Georgia, with only eight people in attendance and successfully receiving over $100 in contributions from those present.
Paul Crouch. Paul Franklin Crouch (March 30, 1934 – November 30, 2013) was an American religious broadcaster who, along with his wife Jan, co-founded the Trinity Broadcasting Network (TBN).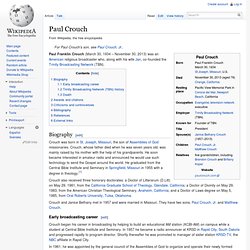 Biography[edit] Crouch was born in St. Joseph, Missouri, the son of Assemblies of God missionaries. Miss Cleo. Youree Dell Harris (born August 12, 1962),[1] better known as Miss Cleo, is an American psychic and alleged shaman who achieved fame as a spokeswoman for a psychic pay-per-call service from 1997 to 2003.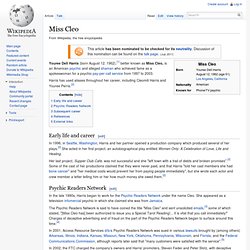 Harris has used aliases throughout her career, including Cleomili Harris and Youree Perris.[2] Early life and career[edit] Her last project, Supper Club Cafe, was not successful and she "left town with a trail of debts and broken promises".[2] Some of the cast of her productions claimed that they were never paid, and that Harris "told her cast members she had bone cancer" and "her medical costs would prevent her from paying people immediately", but she wrote each actor and crew member a letter telling him or her how much money she owed them.[2] Psychic Readers Network[edit] In the late 1990s, Harris began to work for the Psychic Readers Network under the name Cleo.
Rhonda Byrne. In 2007 Byrne was featured in Time Magazine's list of 100 people who shape the world.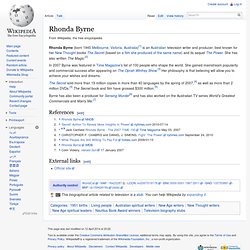 She gained mainstream popularity and commercial success after appearing on The Oprah Winfrey Show.[3] Her philosophy is that believing will allow you to achieve your wishes and dreams. Byrne has also been a producer for Sensing Murder[6] and has also worked on the Australian TV series World's Greatest Commercials and Marry Me.[7] References[edit] Pat Robertson. Marion Gordon "Pat" Robertson (born March 22, 1930)[1] is an American media mogul, executive chairman, and a former Southern Baptist minister, who generally supports conservative Christian ideals.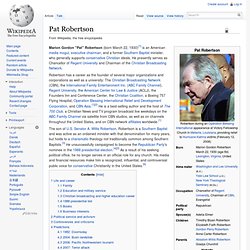 He presently serves as Chancellor of Regent University and Chairman of the Christian Broadcasting Network. Robertson has a career as the founder of several major organizations and corporations as well as a university: The Christian Broadcasting Network (CBN), the International Family Entertainment Inc. J. Z. Knight. Judy Zebra Knight (born Judith Darlene Hampton on March 16, 1946), usually known as JZ Knight, is an American mystic teacher and author, and is known for claiming to be channel of a spiritual entity named Ramtha.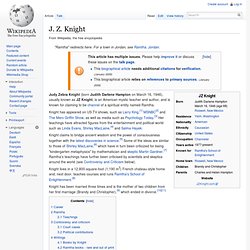 Knight has appeared on US TV shows, such as Larry King,[1] MSNBC[2] and The Merv Griffin Show, as well as media such as Psychology Today.[3] Her teachings have attracted figures from the entertainment and political world such as Linda Evans, Shirley MacLaine,[4] and Salma Hayek. Knight claims to bridge ancient wisdom and the power of consciousness together with the latest discoveries in science.[5] Some of the ideas are similar to those of Shirley MacLaine,[6] which have in turn been criticized for being "kindergarten metaphysics" by mathematician and skeptic Martin Gardner.[7] Ramtha's teachings have further been criticised by scientists and skeptics around the world (see Controversy and Criticism below).
---