Psicología
47 Mind-Blowing Psychology-Proven Facts You Should Know About Yourself. WHAT YOU ARE ABOUT TO READ IN THE NEXT PARAGRAPH IS COMMONLY BELIEVED, BUT NOT TRUE – You read by recognizing the shapes of words and groups of words.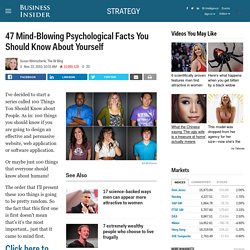 Words that are in all capital letters all have the same shape: a rectangle of a certain size. This makes words displayed in all uppercase harder to read than upper and lower case (known as "mixed case"). Mixed case words are easier to read because they make unique shapes, as demonstrated by the picture below. OK, NOW THE TRUE STUFF STARTS — When I started this article the topic was supposed to be why all capital letters are harder to read.
5 Ways To Hack Your Brain Into Awesomeness. Learn More While You Sleep So say you haven't followed that first step up there and choose to continue sleeping like other mere mortals.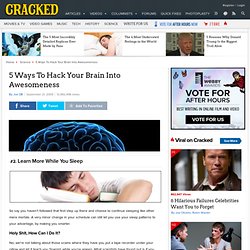 A very minor change in your schedule can still let you use your sleep patterns to your advantage, by making you smarter. Holy Shit, How Can I Do It? The Fun Theory - StumbleUpon. Why Are Genius and Madness Connected? Many of history's most celebrated creative geniuses were mentally ill, from renowned artists Vincent van Gogh and Frida Kahlo to literary giants Virginia Woolf and Edgar Allan Poe.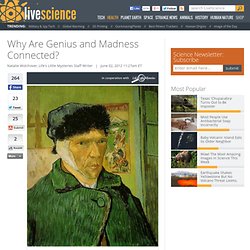 Today, the fabled connection between genius and madness is no longer merely anecdotal. Mounting research shows these two extremes of the human mind really are linked — and scientists are beginning to understand why. A panel of experts discussed recent and ongoing research on the subject at an event held Thursday (May 31) in New York as part of the 5th annual World Science Festival.
All three panelists suffer from mental illnesses themselves. How to Read Body Language to Reveal the Underlying Truth in Almost Any Situation. Bradfords "101 Ways to Make Love Without Doing It" This brochure was created by Lydia P.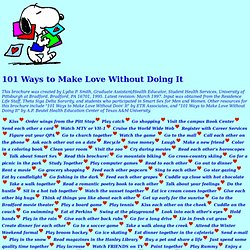 Smith, Graduate Assistant/Health Educator, Student Health Services, University of Pittsburgh at Bradford, Bradford, PA 16701, 1995. Latest revision: March 1997. Input was obtained from the Residence Life Staff, Theta Siga Delta Sorority, and students who participated in Smart Sex for Men and Women. Other resources for this brochure include "101 Ways to Make Love Without Doin' It" by ETR Associates, and "101 Ways to Make Love Without Doing It" by A.P.
Beutel Health Education Center of Texas A&M University. 10 Strange Facts About Dreams : Askipedia.com.
---