Literatura
Russian Sleep Experiment: the best short story I've read. & Rip's Domain
Don't know who wrote this or where it came from. My brother emailed me a link to it and I was completely immersed in it. Kudos to the author. If you know the author or any other works by this person, please leave me links in the comments, I would love to read more from this person.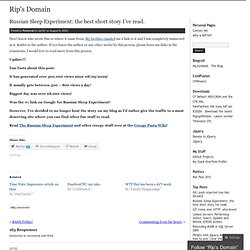 Print - The 75 Books Every Man Should Read
The Wheel of Time turns and Ages come and go, leaving memories that become legend. Legend fades to myth, and even myth is long forgotten when the Age that gave it birth returns again. In the Third Age, an Age of Prophecy, the World and Time themselves hang in the balance. What was, what will be, and what is, may yet fall under the Shadow... I can truthfully say that Jordan is the King of Fantasy, if not in complexity, then in page count. This monstrously big series spans over 13 massive books (each at least 700 pages).
Best Fantasy Books | Top 25 Best Fantasy Books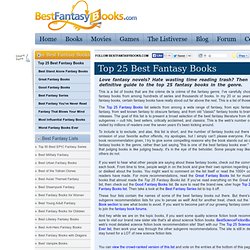 6 Books Everyone (Including Your English Teacher) Got Wrong
With most every classic novel comes some outlandish interpretations. Some people have wild fringe theories about Harry Potter as an allegory for young gay love and Lord of the Rings being about WWII and the atom bomb. But some of these laughably wrong interpretations stick. In fact, you were taught some of them in school ... Upton Sinclair's The Jungle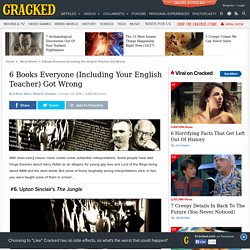 Cliche Finder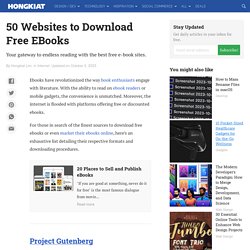 We understand that reading is the simplest way for human to derive and constructing meaning in order to gain a particular knowledge from a source. This tendency has been digitized when books evolve into digital media equivalent – E-Books. It would be nice if we're able to download free e-book and take it with us. That's why we've again crawled deep into the Internet to compile this list of 20 places to download free e-books for your use. Full list after jump. FreeBookSpotFreeBookSpot is an online source of free ebooks download with 4485 FREE E-BOOKS in 96 categories which up to 71,97 GB.
20 Best Websites To Download Free EBooks
Welcome to The Moonlit Road.com, where we tell ghost stories, folktales, myths and legends from the dark backroads of the American South. Want to come along? Follow the lantern to visit with our storytellers.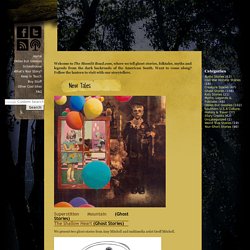 Southern Ghost Stories, Folktales, Myths and Legends from The Moonlit Road.com - StumbleUpon
- StumbleUpon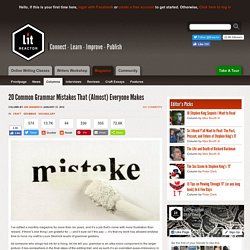 I've edited a monthly magazine for more than six years, and it's a job that's come with more frustration than reward. If there's one thing I am grateful for — and it sure isn't the pay — it's that my work has allowed endless time to hone my craft to Louis Skolnick levels of grammar geekery. As someone who slings red ink for a living, let me tell you: grammar is an ultra-micro component in the larger picture; it lies somewhere in the final steps of the editing trail; and as such it's an overrated quasi-irrelevancy in the creative process, perpetuated into importance primarily by bitter nerds who accumulate tweed jackets and crippling inferiority complexes. But experience has also taught me that readers, for better or worse, will approach your work with a jaundiced eye and an itch to judge.
20 Common Grammar Mistakes That (Almost) Everyone Gets Wrong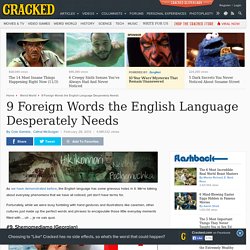 9 Foreign Words the English Language Desperately Needs
As we have demonstrated before, the English language has some grievous holes in it. We're talking about everyday phenomena that we have all noticed, yet don't have terms for. Fortunately, while we were busy fumbling with hand gestures and illustrations like cavemen, other cultures just made up the perfect words and phrases to encapsulate those little everyday moments filled with ... uh ... je ne sais quoi. #9. Shemomedjamo (Georgian) Means:
You've read Edgar Allan Poe's terrifying stories. You can quote "The Raven." How well do you know the writer's quirky sense of humor and code-cracking abilities, though? Let's take a look at five things you might not know about the acclaimed author, who was born 202 years ago today. 1. He Was the Original Balloon Boy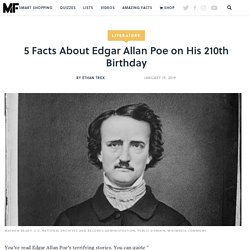 mental_floss Blog & 5 Things You Didn't Know About Edgar Allan Poe
DarkCopy - Simple, full screen text editing - StumbleUpon