Mixing Drinks
Strawberry Margarita Jello Shots. To make these jello shots first take some strawberries and cut their top and bottom.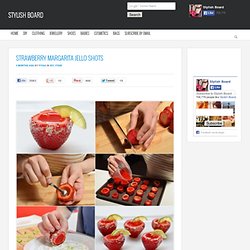 Then scoop out the strawberries' flesh creating small cups and arrange them in a tray. Mix strawberry jelly mix in hot water and add tequila and cointreau. Fill this mixture in the strawberry cups. Let the jelly set in fridge. Drinking Games. Cult television shows always end up with a certain level of melancholy because their fans feel they were canceled long before their time.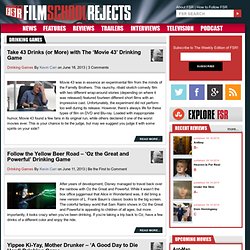 It is this fan devotion that keeps these shows alive in reruns and on the various home video platforms. However, once in a while, a show gets resurrected on a different network (like Cougar Town), as a major motion picture (like Serenity), or even on a totally different delivery platform (like Arrested Development moving to Netflix). Slap Cup Beer Drinking Game ©2010. 10 Best Sexual Drinking Games. Some of the best sexual drinking games can be done either in an intimate setting with only you and your girlfriend or you can make it a party and have multiple people.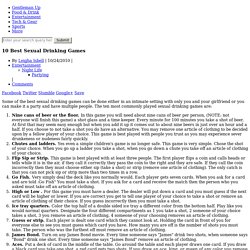 The ten most commonly played sexual drinking games are: Nine cans of beer or the floor. In this game you will need about nine cans of beer per person, (NOTE: not everyone will finish this game) a shot glass and a time keeper. Every minute for 100 minutes you take a shot of beer. How To Make Moonshine. The 10 manliest cocktails (and how to make them) Cocktail Guide. Get Drunk Not Fat - Find The Lowest Calorie Beer. 30 Drinks Every Bartender Should Know. So I have a new hire who is about to bartend her first bartending shift and I was about to e-mail her 30 drinks every bartender should know and looking for a list (so I wouldn't have to make it) and almost every list I found was absolutely ridiculous.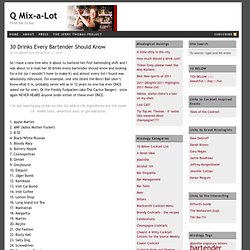 For example, one site listed the Bocci Ball (don't know what it is, probably never will as in 12 years no one has ever ONCE asked me for one). Or the Freddy Fudpacker (aka The Cactus Banger) – once again NEVER HEARD anyone order either of these ever ONCE. I'm not naming any drinks on this list where the ingredients are the name i.e. vodka tonic, amaretto sour, or gin and juice. Cocktails - Drink Recipes, Vodka, and Cocktail Recipes. 7UP Mixers. 23 Mind Blowing Jelly Shots | Cool & Pink. 1898646_460s.jpg (JPEG Image, 460x9230 pixels) SMN_NEW_DandelionWineMAY10.gif (GIF Image, 1288x754 pixels) - Scaled (85%)
Milk and Booze! How To Make Sweet Milk Liqueur. Previous image Next image Milk liqueur: a Portuguese recipe made from equal parts vodka (or grappa), milk, and sugar.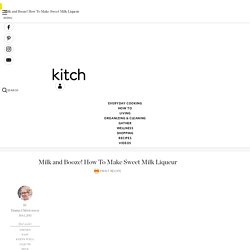 Say hello to the newest addition to our liquor cabinet! Wine Types Chart. S'moretini Shooters. Me again.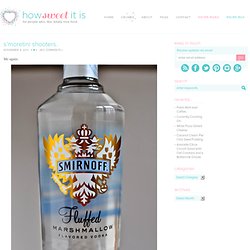 Here to convince you that you need yet another trendy, insanely-flavored bottle of booze. I do what I can. How to Make Caramel Apple Shots. Photo: Michelle Oddis Once in a while, a party trick comes along that grabs our attention.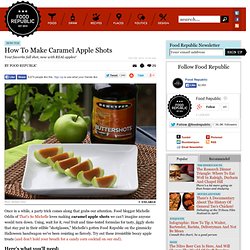 Food blogger Michelle Oddis of That's So Michelle loves making caramel apple shots we can't imagine anyone would turn down. Using, wait for it, real fruit and time-tested formulas for tasty, jiggly shots that stay put in their edible "shotglasses," Michelle's gotten Food Republic on the gimmicky Halloween bandwagon we've been resisting so fiercely. Drinking Games | The Social Feed. Have fun with The Webtender's collection of drinking games, but be extremely careful if you play any these games, especially the ones with high buzz factors.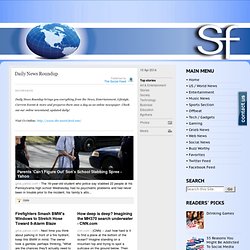 The collection was created as an aid to responsible adults who know their limits (and not to cross them) when it comes to drinking, and not to promote this kind of drinking behavior. You should of course be of legal drinking age if you want to play these games with beer or drinks, but anyone can play these games with non-alcoholic beverages as well. Jolly Rancher Vodka Tutorial. Skittles Vodka Tutorial.
---