University/work
TU Chemnitz - Technische Universität Chemnitz
TU Chemnitz: URZ: Anwendungen und Dienste: Login-Server
Mensaspeiseplan: Studentenwerk Chemnitz-Zwickau
~fnor: Speiseplan
Fakultät für Naturwissenschaften...: Die Professur
CHiC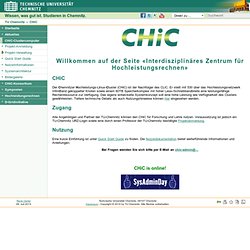 CHiC Der Chemnitzer Hochleistungs-Linux-Cluster (CHiC) ist der Nachfolger des CLiC. Er stellt mit 530 über das Hochleistungsnetzwerk InfiniBand gekoppelter Knoten sowie einem 60TB Speicherkomplex mit hoher Lese-/Schreibbandbreite eine leistungsfähige Rechenressource zur Verfügung. Das eigens entwickelte Systemkonzept soll eine hohe Leistung wie Verfügbarkeit des Clusters gewährleisten.
IAPP - Home - Start
Mitarbeiter - Mitarbeiter
IAPP Webmail
Studentenwerk Dresden - ZUSAMMEN. WIRKEN.
Selbstbedienungsportal TU Dresden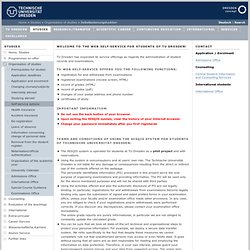 TU Dresden has expanded its service offerings as regards the administration of student records and examinations. TU web self-service offers you the following functions: registration for and withdrawal from examinations registered examinations (review screen, HTML) record of grades (HTML) record of grades (pdf) changes of your postal address and phone number certificates of study Important information: Do not use the back button of your browser.
ZIH - Datennetz-Dienste
Newsreader-Konfiguration « DFNNetNews
ZIH - Login-Server
TU-Dresden Webmail
TUD - Fachrichtung Physik - Fachrichtung Physik