Road trip!
Events - Community Calendar. Amy's Ice Creams' Trick Olympics The frozen dairy concoctions will be flying to benefit CASA of Travis County.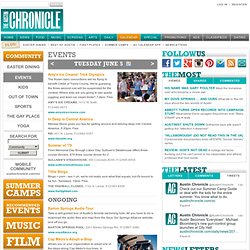 We're guessing the three-second rule will be suspended for the contest. Where else are you going to see spade juggling and team ice cream tricks? 7-9pm. Free. The Highball. New Orleans Events Calendar. ArtsNewOrleans - Jewelry making workshops at Thomas Mann studioFLUX @ Thomas Mann Gallery I/O. All Day.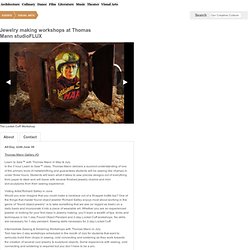 Until June 30 Thomas Mann Gallery I/O. Top 10 things to Do in New Orleans Besides Mardi Gras. Jackson SquareThe French Quarter's heart and soul is a must-see, boasting a statue of Andrew Jackson at its center and a ragtag collection of artists and fortune-tellers fringing its perimeter.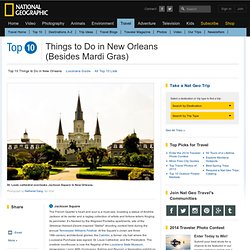 It's flanked by the filligreed Pontalba apartments, site of the Streetcar-Named-Desire-inspired "Stella!" Shouting contest held during the annual Tennessee Williams Festival. At the Square's crown are three 18th-century architectural glories: the Cabildo, a former city hall where the Louisiana Purchase was signed; St. Louis Cathedral; and the Presbytère. Free U.S. Music and Dance Events. Daily Kennedy Center Concerts Washington, D.C.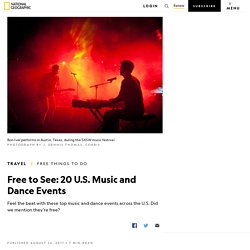 Every single day of the year, the renowned Kennedy Center offers a free performance on its Millennium Stage . Acts have included Egyptian jazz, Chinese string trios, and American classics. Performances take place every day at 6 p.m. at the Grand Foyer. No tickets are required. Ultimate Adventure Bucket List 2011 -- National Geographic Adventure. At the cold upper reaches of the Atlantic, Iceland is marked by the fiery wrath of volcanoes and the cool precision of steamrolling glaciers.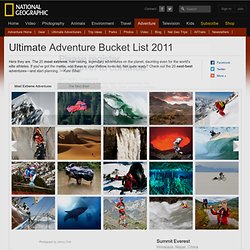 It's also a spot of remarkable instability, situated right on top of the rift between the North American and European tectonic plates. Dubbed Silfra, the fissure is filled with water that, melted from glaciers and filtered through lava fields, is some of the clearest on the planet, often topping 300 feet (91 meters) of visibility. Though the water barely scrapes above freezing, it's a favorite among divers.
The dive starts on a nondescript platform in the barren tundra of Thingvellir National Park, a UNESCO World Heritage site. There, divers squeeze into down-lined drysuits and plunge into the water. America's Best Adventure Towns. Where to Live and Play!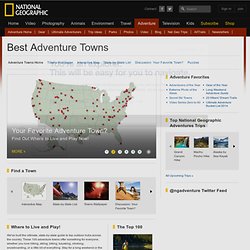 We've built the ultimate, state-by-state guide to top outdoor hubs across the country. These 100 adventure towns offer something for everyone, whether you love hiking, skiing, biking, kayaking, climbing, snowboarding, or a little bit of everything. Grand Canyon National Park. The road to the Grand Canyon from the south crosses a gently rising plateau that gives no hint at what is about to unfold.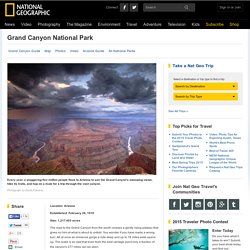 You wonder if you have made a wrong turn. All at once an immense gorge a mile deep and up to 18 miles wide opens up. The scale is so vast that even from the best vantage point only a fraction of the canyon's 277 miles can be seen. Nearly five million people travel here each year; 90 percent first see the canyon from the South Rim with its dramatic views into the deep inner gorge of the Colorado River. So many feet have stepped cautiously to the edge of major overlooks that in places the rock has been polished smooth. The Ultimate Road Trip Playlist - 50 Best Road Trip Songs&|&The Jetpacker - StumbleUpon.
No road trip is complete without a playlist of songs that capture the spirit of traveling on the open road.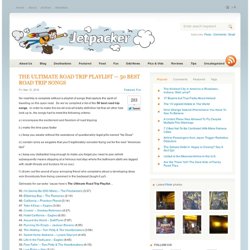 So we've compiled a list of the 50 best road trip songs . In order to make this be-all end-all totally definitive list that all other lists look up to, the songs had to meet the following criteria: How to Plan a Cross-Country Road Trip. For sheer iconic, devil-may-care travel, the American cross-country road trip stands out among all other vacations.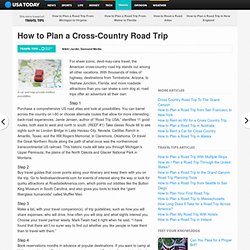 With thousands of miles of highway, destinations from Tombstone, Arizona, to Yeehaw Junction, Florida, and more roadside attractions than you can shake a corn dog at, road trips offer an adventure all their own. Step 1. California 2012 ballot propositions. Altogether, thirteen statewide ballot propositions were on the 2012 ballot in California. 2012 was a high-stakes, high-drama ballot proposition year in California.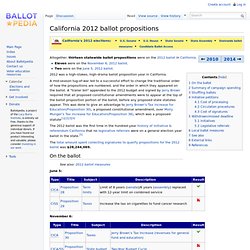 The 2012 ballot was the first time in the hundred-year history of initiative & referendum California that no legislative referrals were on a general election year ballot in the state.[5]
---