Reference
5000+ Resources to Do Just About Anything Online. Since May 2007, we've been bringing you resources and tools to be more productive on the web.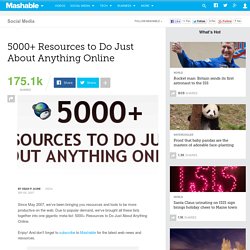 Due to popular demand, we've brought all these lists together into one gigantic meta-list: 5000+ Resources to Do Just About Anything Online. Enjoy! And don't forget to subscribe to Mashable for the latest web news and resources. 6 Key Ways to Measure Your Blog's Success - Six essential tools for measuring how your blog is performing. Funding Projects - Group Consensus Facilitation. §.
Podcasting may not have lived up to the early hype, but with iPods and other MP3 players still selling like crazy, the potential audience for these audio shows is huge.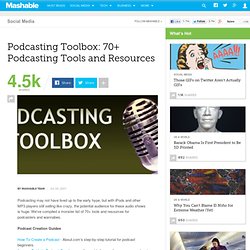 We've compiled a monster list of 70+ tools and resources for podcasters and wannabes. Podcast Creation Guides How To Create a Podcast - About.com's step-by-step tutorial for podcast beginners.iLounge Guide to Podcast Creation - another guide for creating your own podcast for absolute beginners.Podcasting Legal Guide - find about legal issues relevant to podcasting in this Creative Commons guide. §. Never again will mankind have to look for RSS info in more than one place...ok, we're kidding, but we've aimed to create a near comprehensive list of all the RSS readers, tools, browser plugins, tips, hacks and directories available on the web.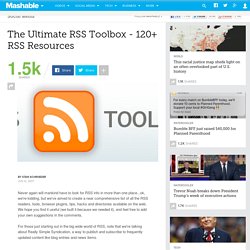 We hope you find it useful (we built it because we needed it), and feel free to add your own suggestions in the comments. For those just starting out in the big wide world of RSS, note that we're talking about Really Simple Syndication, a way to publish and subscribe to frequently updated content like blog entries and news items. RSS readers - Windows.
---