Hurricanes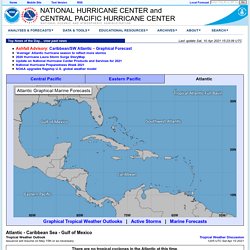 January issue of the Q&A with NHC series highlights TSB branch chief *Spanish translations courtesy of the NWS San Juan Weather Forecast Office Hurricane Season Dates
Disclaimer : The tropical cyclone information displayed here is based on the latest NOAA and JTWC reports received here at CIMSS, and may or may not be the most current forecast available from these official forecasting agencies. CIMSS provides this product for the general public's viewing, but is not responsible for its ultimate use in the forecasting of tropical cyclones and/or the use of public watches/warnings. Concerned customers should confirm these prognostications with official sources (see our links section). Note : If any of the images provided here are to be displayed elsewhere (internet, publications, etc.), please reference CIMSS.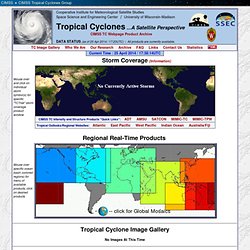 CIMSS Tropical Cyclones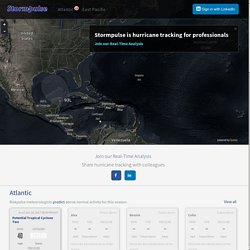 Anticipate Delays & Disruptions Those cable news channels weren't designed to work on your schedule or provide the level of detail you need to run an enterprise. Skip the hype with Stormpulse, where insight into potential threats is just a mouse-click away. Streamline Your Response For our customers, knowing which facilities and assets are at-risk is a vital part of the mission.
NRL TC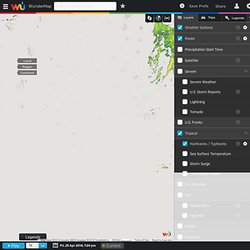 Fire Danger Rating Low Fuels do not ignite readily from small firebrands although a more intense heat source, such as lightning, may start fires in duff or punky wood.
WunderMap
All Floater Imagery - Satellite Services Division / Office of Satellite Data Processing and Distribution
MIMIC-TPW
Below is the latest available GOES GVAR thermal imagery. You can also visit imagery depicting current water vapor, visible, and low cloud (lower atmospheric) conditions. During hurricane season, the ESL's hurricanes page provides a variety of GOES atmospheric products to help monitor the active storms. To see our GOES sea-surface temperature imagery, visit our archives. Find more of our oceanography research at our Loop Current Research page. Latest Water Vapor Loop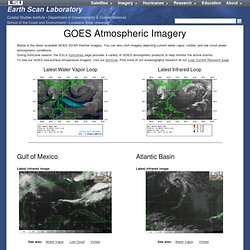 RTAP - Earth Scan Laboratory, LSU
Atlantic and Caribbean Tropical Satellite Imagery - Satellite Services Division / Office of Satellite Data Processing and Distribution
Pacific Tropical Satellite Imagery - Satellite Services Division / Office of Satellite Data Processing and Distribution
Saharan Air Layer (SAL) - Split Window - Combo - Latest Available