General
Public Citizen Home Page. Together, two separate corporate entities called Public Citizen, Inc. and Public Citizen Foundation, Inc., form Public Citizen.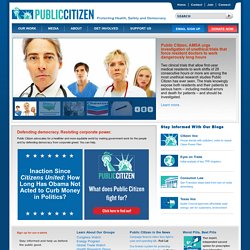 Both entities are part of the same overall organization, and this Web site refers to the two organizations collectively as Public Citizen. Although the work of the two components overlaps, some activities are done by one component and not the other. The primary distinction is with respect to lobbying activity. Public Citizen, Inc., an IRS § 501(c)(4) entity, lobbies Congress to advance Public Citizen's mission of protecting public health and safety, advancing government transparency, and urging corporate accountability.
Public Citizen Foundation, however, is an IRS § 501(c)(3) organization. Forum Network | Free Online Lectures from PBS and NPR. Legalizing Pot: Good for the Jews?
---