CordahiCreations
How to Install ICC Profiles. Need to uninstall profiles?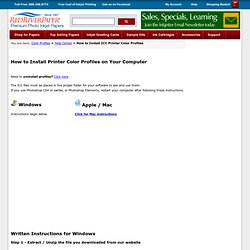 Click here The ICC files must be placed in the proper folder for your software to see and use them. If you use Photoshop CS4 or earlier, or Photoshop Elements, restart your computer after following these instructions. Written Instructions for Windows. Canson Infinity - ICC Profiles and Paper Presets. You can download from this page free ICC profiles and paper presets for each Canson Infinity papers and canvas, matched to the printers (using pigmented inks) most commonly used in the Digital Fine Art Market.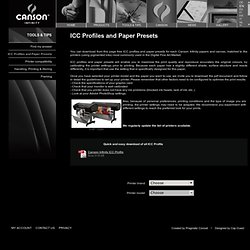 ICC profiles and paper presets will enable you to maximise the print quality and reproduce accurately the original colours, by calibrating the printer settings prior to printing. Because each paper has a slightly different shade, surface structure and reacts differently, it is important that use the setting that is specifically designed for this paper. Once you have selected your printer model and the paper you want to use, we invite you to download the pdf document and follow in detail the guidelines to set up your printer.
ICC Profiles Downloads - Moab by Legion Paper. Before downloading our .icc profiles, please READ THE INSTRUCTIONS or WATCH THE VIDEOS for downloading, installing and using them in Adobe Photoshop.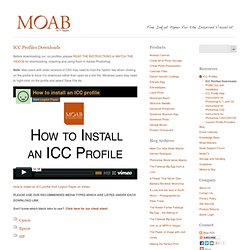 Note: Mac users with older versions of OSX may need to hold the 'option' key when clicking on the profile to force it to download rather than open as a text file. Windows users may need to 'right-click' on the profile and select 'Save File As'. How to install an ICC profile from Legion Paper on Vimeo. Don't know which black inks to use? ICC profiles : For Windows.
Color Management | Free Download Epson® icc Profiles | Canon® icc Profiles. What is an ICC profile?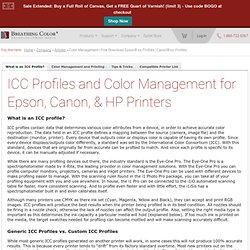 ICC profiles contain data that determines various color attributes from a device, in order to achieve accurate color reproduction. The data held in an ICC profile defines a mapping between the source (camera, image file) and the destination (monitor, printer). Every device that outputs color or displays color is capable of having its own profile.
---