Culture celte
Home - Monastic Wales - A Comprehensive Database of Sites and Sources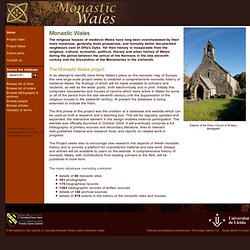 The religious houses of medieval Wales have long been overshadowed by their more numerous, generally more prosperous, and normally better documented neighbours east of Offa's Dyke. Yet their history is inseparable from the religious, cultural, economic, political, literary and urban history of Wales during the period between the arrival of the Normans in the late eleventh century and the Dissolution of the Monasteries in the sixteenth.In an attempt to identify more firmly Wales's place on the monastic map of Europe, this new large-scale project seeks to establish a comprehensive monastic history of medieval Wales, the findings of which will be made available to scholars and students, as well as the wider public, both electronically and in print. Initially this comprised monasteries and houses of canons which were active in Wales for some or all of the period from the late eleventh century until the Suppression of the religious houses in the sixteenth century.
entrelacs celtiques - celtic ornements - pour horizon, l'océan...
Celtic knot design on a gravestone | Flickr : partage de photos !
Gigi le Merdy, artiste bretonne, nous propose des peintures inspirées de l'entrelacs celte avec une liberté retenue qui donne l"impression de voyager en des contrées non inconnues mais sereines. Contrairement à beaucoup d'imitations contemporaines de l'art celte irlandais du Moyen-Age, ces œuvres dégagent une réelle personnalité et une maitrise des couleurs et des tons. Les lieux Bretagne, France Les temps XXI s. Les cultures world/contemporain Les arts enluminure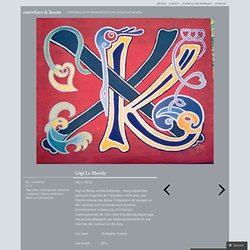 Gigi Le Merdy
trésor du Staffordshire Hoard exposition juqu'à fin 2011
enluminure irlandaise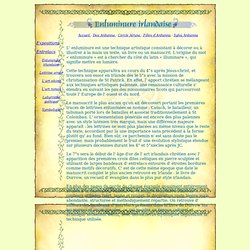 L' enluminure est une technique artistique consistant à décorer ou à illustrer à la main un texte, un livre ou un manuscrit. L'origine du mot « enluminure » est à chercher du côté du latin « illuminare », qui signifie mettre en lumière. Cette technique apparaîtra au cours du 4°s après Jésus-christ, et trouvera son essor en Irlande dès le 5°s avec la mission de christianisation de St Patrick.
Celtic knot
Stone Celtic crosses, such as this, are a major source of our knowledge of Celtic knot design. Carpet page from Lindisfarne Gospels, showing knotwork detail. Almost all of the folios of the Book of Kells contain small illuminations like this decorated initial. History[edit]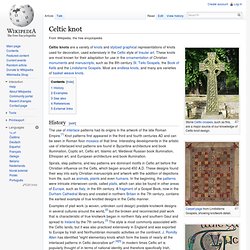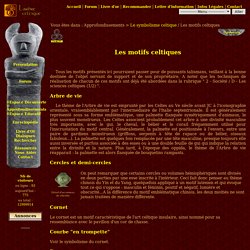 Les motifs celtiques Tous les motifs présentés ici pourraient passer pour de puissants talismans, veillant à la bonne destinée de l'objet servant de support et de son propriétaire. A noter que les techniques de réalisation de chacun de ces motifs ont déjà été abordées dans la rubrique " 2 - Société / D - Les sciences celtiques (1/2) ". Arbre de vie Le thème de l'Arbre de vie est emprunté par les Celtes au Ve siècle avant JC à l'iconographie orientale, vraisemblablement par l'intermédiaire de l'Italie septentrionale. Il est généralement représenté sous sa forme emblématique, une palmette flanquée symétriquement d'animaux, le plus souvent monstrueux.
L
Proceedings of the Society of Antiquaries of Scotland, Volume 31, p301.png