Culture celte
JF BRADU - Les Celtes. Celtic art in pagan and Christian times : Allen, J. Romilly (John Romilly), 1847-1907. eBook and Texts > California Digital Library > Celtic art in pagan and Christian times View the book (~456 pg)Read Online (20.2 M)PDF (15.8 M)B/W PDF (2.5 M)EPUB(~456 pg)Kindle(~456 pg)Daisy (629.6 K)Full Text (11.1 M)DjVu All Files: HTTPS Torrent (2/0) Help reading texts Resources.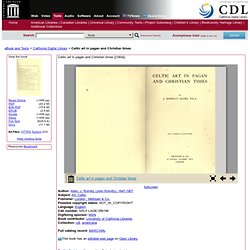 L'Art Celte | Scáthcraft. Ealaíne L'Art Celte (publié à l'origine le 24 mars 2012 sur la Caverne) L'art des Celtes est avant tout un art du métal qui utilise le bronze, le fer et l'or.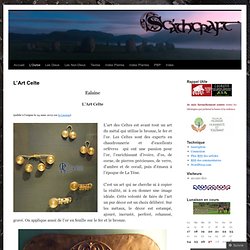 Les Celtes sont des experts en chaudronnerie et d'excellents orfèvres qui ont une passion pour l'or, l'enrichissant d'ivoire, d'os, de corne, de pierres précieuses, de verre, d'ambre et de corail, puis d'émaux à l'époque de La Tène. Home - Monastic Wales - A Comprehensive Database of Sites and Sources. Entrelacs celtiques - celtic ornements - pour horizon, l'océan... Celtic knot design on a gravestone. Gigi Le Merdy. Gigi le Merdy, artiste bretonne, nous propose des peintures inspirées de l'entrelacs celte avec une liberté retenue qui donne l"impression de voyager en des contrées non inconnues mais sereines.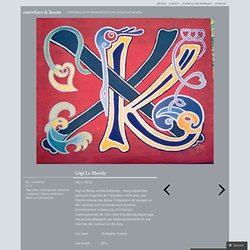 Contrairement à beaucoup d'imitations contemporaines de l'art celte irlandais du Moyen-Age, ces œuvres dégagent une réelle personnalité et une maitrise des couleurs et des tons. Les lieux Bretagne, France Les temps XXI s. Les cultures world/contemporain Les arts enluminure. Trésor du Staffordshire Hoard exposition juqu'à fin 2011. CELT: The online resource for Irish history, literature and politics. Enluminure irlandaise. L' enluminure est une technique artistique consistant à décorer ou à illustrer à la main un texte, un livre ou un manuscrit.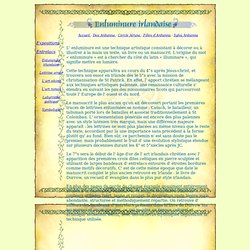 L'origine du mot « enluminure » est à chercher du côté du latin « illuminare », qui signifie mettre en lumière. Cette technique apparaîtra au cours du 4°s après Jésus-christ, et trouvera son essor en Irlande dès le 5°s avec la mission de christianisation de St Patrick. Celtic knot. Stone Celtic crosses, such as this, are a major source of our knowledge of Celtic knot design.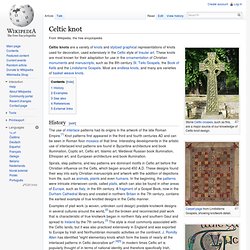 Carpet page from Lindisfarne Gospels, showing knotwork detail. Almost all of the folios of the Book of Kells contain small illuminations like this decorated initial. History[edit] L. Les motifs celtiques Tous les motifs présentés ici pourraient passer pour de puissants talismans, veillant à la bonne destinée de l'objet servant de support et de son propriétaire.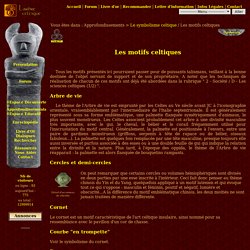 A noter que les techniques de réalisation de chacun de ces motifs ont déjà été abordées dans la rubrique " 2 - Société / D - Les sciences celtiques (1/2) ". Arbre de vie Le thème de l'Arbre de vie est emprunté par les Celtes au Ve siècle avant JC à l'iconographie orientale, vraisemblablement par l'intermédiaire de l'Italie septentrionale. Il est généralement représenté sous sa forme emblématique, une palmette flanquée symétriquement d'animaux, le plus souvent monstrueux. Celtic knotwork, the ultimate tutorial. Proceedings of the Society of Antiquaries of Scotland, Volume 31, p301.png.
---