Accessibilité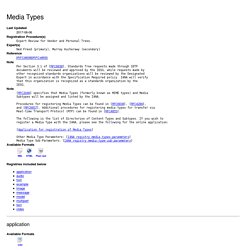 Last Updated Registration Procedure(s) Expert Review for Vendor and Personal Trees. Expert(s) Ned Freed, primary; Mark Baker, secondary; Bjoern Hoehrmann, secondary
MIME Media Types - IANA [en]
7 erreurs en matière d'accessibilité - Blog BlindSurfer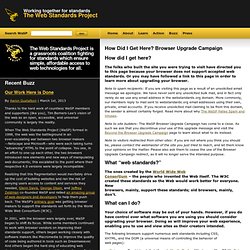 WaSP (Web standards project) [en]
How Did I Get Here? Browser Upgrade Campaign How did I get here? The folks who built the site you were trying to visit have directed you to this page because your browser does not support accepted web standards.
W3Québec
Alsacréations
Depuis 2005 je reste persuadé que l'accessibilité à tout intérêt à mettre l'utilisateur au centre de la sensibilisation et les experts dans le domaine m'ont toujours rétorqué que c'était extrêmement difficile de les inclure. Aujourd'hui un twitt de tanguy Lohéac m'a interpellé. « les experts #accessibilité se plaignent souvent d'être seuls sans soutien des pers concernées et les pers' handi pensent souvent qu'elles sont seules que leur paroles ne vaut rien » Régis Lapeze lui se demandait sur son blog L'accessibilité doit-elle être évangélisée par les Experts ?
Web-pour-tous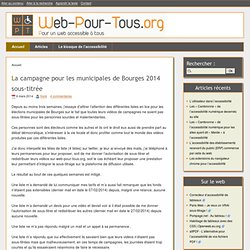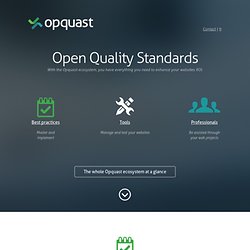 Web quality is a cross-disciplinary approach that develops models aiming to satisfy all your users needs Web quality best practices improve user's experience before (visibility), while (usability, technics, contents) and after (services) his visit Guarantees the final result Improves the conversion rate Reduces the non-quality costs Increases webperfs and SEO Saves money on hosting services costs Improves communication efficiency Reduces the risks (legal, financial and customers unsatisfaction) Rationalizes web activities (web governance)
Opquast
Openweb
Cédric Morin makes a ready-to-use solution solving Adaptive Images issue, that fits well with dynamic websites (one more solution, yeah): this solution is not trivial, but is designed to be automated. Cédric Morin étudie une solution prête à l'emploi pour résoudre le casse-tête des Adaptive Images, adaptée aux sites dynamiques (une de plus, oui) : cette solution est complexe, mais est prévue pour être complètement automatisable. Une fois n'est pas coutume, Nicolas Hoffmann se penche pour nous sur un sujet typographique : la césure en CSS. Passé, présent et futur de la gestion de la césure s'entrecoupent avec une touche historique… et d'accessibilité, vous n'alliez pas y couper, c'est sûr !