Paris
Carré Noir - 2012. Home | Dragon Rouge Paris. CARACAS, le design communiquant. Agence conseil en design global et image de mar. Publicis Modem - Agence de Marketing Interactif. UZIK | Agence de communication interactive. Contact - Pascal Béjean, Olivier Körner, Nicolas Ledoux. The möbius strip. La société Préférences devient Eclydre): eclydre, l'agence web. NoDesign - Design, Numérique, Innovation. Work — AREA 17. Vecteur Visuel - Agence de creation graphique Paris.
Agence de design. Graphic Design Agency ++ Agence de Graphisme ++ Paris : France. Blog de graphiste, de graphisme, d'illustration, de typo... de 5 merveilleux graphistes ::: Grapheine 5mg ! BasilicStudio® | Studio de création. Dazibao | Studio Communication graphique - Paris. Anatome :: agence de communication publique. Element(s) LA MAISON - DESIGN GRAPHIQUE. Aksel-creas.com. ANATOMICAL CHAIR > A chair by Jean Prouvé (Painting © Aksel) Release date: dec. 2013 Aksel adds a mix of bones and flesh to the alliance of metal and wood, featuring Jean Prouvé industrial esthetism with the anatomical patterns which has made AK-LH (Graphic design creation and edition studio) famous.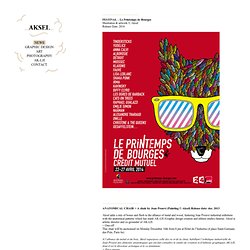 Aksel is artistic director and co-grounder of AK-LH. > One-offThis chair will be auctionned on Monday December 16th from 8 pm at Hôtel de l'Industrie (4 place Saint-Germain-des-Prés, Paris 6e) ROUGE, agence conseil en communication. STREET MARKETING, BUZZ MARKETING, GUERILLA MARKETING, MARKETING ALTERNATIF & DIGITAL MARKETING | Agence Paris | Tribeca. EVOSTRUCT STUDIO. Agence web paris, design et developpement application web. Developpement d'applications en ligne - Systeme de gestion de bases de donnees - Expertise Adobe flash et ActionScript.
Siège social : 142 RUE DU FAUBOURG SAINT-DENIS - 75010 PARIS Tel :+33 (0)1 40 34 94 07 - contact@lomitko.com S.A.R.L. au capital de 7500 € - RCS PARIS B 443 676 986 La publication est dirigée par Nicolas CARIS.
Le présent site et ses données sont la propriété de LOMITKO. Les liens donnant accès à d'autres sites internet n'engagent pas la responsabilité de LOMITKO quant au contenu de ces sites. L'utilisateur est informé que, lors de ses visites sur le site, un cookie peut s'installer automatiquement sur son logiciel de navigation. Un cookie est un élément qui ne permet pas d'identifier l'utilisateur mais sert à enregistrer des informations relatives à la consultation et la navigation de celui-ci sur le site Internet concerné. Creative digital agency. L'agence multi-médium | Supersoniks. Home-page - Duke - A Razorfish Company. _fr. SQLI Agency. Oonops | Agence de communication interactive. Fake. Dream On. Agence JBA / conseil éditorial & design graphique.
[di-fé-ran] Soleil Noir Studio. AUplaisir, atelier de création graphique. OKÓ | Agence Indépendante. Fondamenti, Agence de création et de déploiement de marques. Ecedi - Créateur Conseil en Nouvelles Technologies. Les 84™ - French but happy and creative - © 2010. .::: LA CHOSE :::. Les Nouveaux Messagers. COLORZ . Communication Interactive & Créative. Agence RAPP – Agence de marketing relationnel et de communication interactive. BDDP Unlimited. Bienvenue sur le site d'Opixido |||||||||||||||||||||||||||||||||||||||||||||||||||||||||||||||||||site web, digital design, charte graphique, système de navigation, formation, web management, création de personnage, Internet, internet, intranet, extranet. La Forme New Media.
Big Ideas come out of Big Pencils. RESEARCH STUDIOS PARIS. _FCINQ | studio de création.
---