Fitness
Get flash to fully experience Pearltrees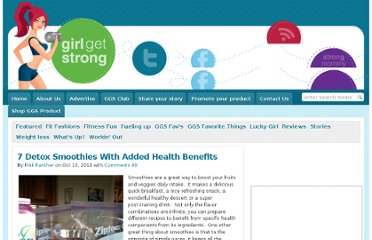 By Pink Panther on Oct 10, 2011 with Comments 98 Smoothies are a great way to boost your fruits and veggies daily intake. It makes a delicious quick breakfast, a nice refreshing snack, a wonderful healthy dessert or a super post-training drink. Not only the flavor combinations are infinite, you can prepare different recipes to benefit from specific health components from its ingredients. One other great thing about smoothies is that to the opposite of simple juices, it keeps all the natural fiber, which help cleansing the digestive tract. The powerful detox foods that go into it help your liver to detox naturally, and they can help you stay healthy and look great.
If you're new here, you may want to subscribe to my RSS feed . Thanks for visiting! So I have a mommy weight loss group on Facebook and we all support each other with healthy eating tips, work out tips, motivation, etc. Well, a lot of us have decided to do a cleanse.
"Losing weight can be as simple as cutting out a meatball here and an egg roll there." ~~Elizabeth Somer, M.A., R.D. REACHING YOUR FAT-LOSS GOALS may be easier than you think. To lose a pound of fat a month, all you need to do is cut 100 calories a day from your diet, assuming the intake and expenditure of all other calories remains the same. That's because a pound of body fat is equivalent to about 3,500 calories.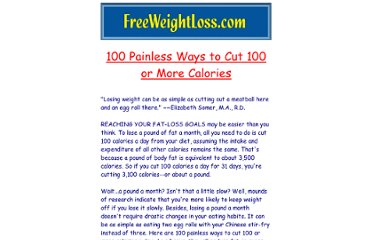 Marie Claire shows you how to shrink your body in four weeks! Follow this easy one-week regimen four times in a row. It's designed especially for those who like to keep their weekends exercise-free. "You can look noticeably slimmer and stronger in as little as one month," says David Kirsch, owner of NYC's Madison Square Club gym.
That ice-cold lemonade may hit the spot on a 90-degree day, but it's not doing your waistline any favors. A 20-ounce Minute Maid Lemonade contains 250 calories and 68 g of sugar. Fortunately, there are plenty of refreshing summer drinks that you can drink without guilt—and they may actually help you lose weight. Here are six ways to quench your thirst without packing on pounds. 6 Super Smoothie Recipes