PIE.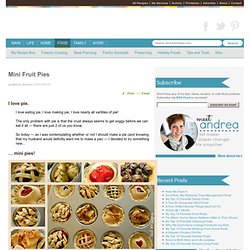 I love pie. I love eating pie, I love making pie, I love nearly all vartities of pie! The only problem with pie is that the crust always seems to get soggy before we can eat it all — there are just 2 of us you know. So today — as I was contemplating whether or not I should make a pie (and knowing that my husband would definitly want me to make a pie) — I decided to try something new… … mini pies!
Pecan Pie V Recipe
Grandma's Lemon Meringue Pie Recipe
For me, settling into Fall is generally triggered by three things…leaves changing color, brisk cool air, and an inexplicable craving for apples. So, naturally, I have yet another yummy recipe for apple goodness. As my husband states here there is an "unmistakable briskness that now ever-so-subtly hangs in the air." Sigh…I don't even want to imagine what that "briskness" is threatening in the next few months. But, as long as beautiful Fall weather is here to stay for a little while, I am going to enjoy it while it lasts.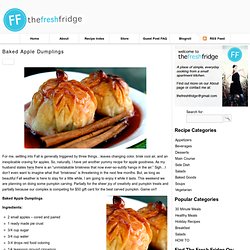 Baked Apple Dumplings
Brownie Pie | The Family Kitchen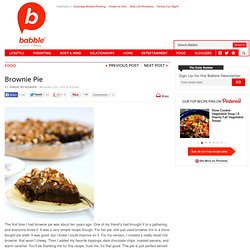 The first time I had brownie pie was about ten years ago. One of my friend's had brought it to a gathering, and everyone loved it. It was a very simple recipe though. For her pie, she just used brownie mix in a store-bought pie shell.
This dessert is part of a larger meal " A Taste of Autumn " where every single dish was made using "edible" or natural "bowls." That post is my entry for Project Food Blog Round 6. You can check out the post and vote for me here . I'm not a baker. Bakers are precise, careful, planned, and detail-oriented people. They have to be this way, for baking is such a precise art.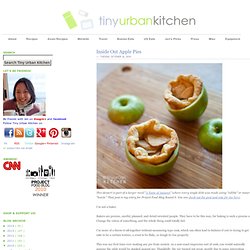 French Silk Chocolate Pie | recipes | feasting.in
One pie is good. Three is even better. After missing my golden opportunity to enter my pies into the Malibu pie contest last week, which I fervently declared I would challenge earlier this year, I was feeling up to a challenge. These pies are my ammo and yes, I'm coming for you next year pie contest.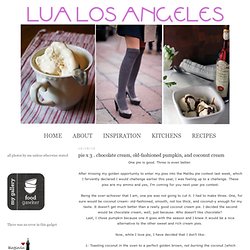 Lua Los Angeles: pie x 3 . chocolate cream, old-fashioned pumpkin, and coconut cream
Lemon Bar Recipe